Clopping up the stairs to the ticket booth at my local theater, I received devastating news: "Unfortunately, there will be no opera today. Our satellite is down and nobody came to fix it this week," said the bespectacled man behind the glass. Imagine my abject disappointment. With no other options, I called my ride and headed back home without the chance to hear Cherubini's splendid music or see the marvelous singers display the prowess of their gifted larynxes.
Despite the cinema's snafu, I still had an outfit to wear, and I wasn't about to let that go unseen.
Concept
The drab, tortured promotional photos for Medea gave me no inspiration as to what to create for the Met's inaugural production of the opera. There are only so many times a black dress can be worn without the accompaniment of jaded yawns, no matter how haute (or grunge) the variations. Black was not in my future, at least for Medea.
For advanced enrichment, I read Eurypides's play to prepare for Medea. Subsequently, my plan was to draw from Medea's story of an outsider brought to Corinth for the purpose of lament and revenge. A Grecian-style dress in drapey jersey knit seemed to be an auspicious beginning. However, that thought was discarded like a gum wrapper onto the pavement by the advent of something more scintillating. During the summer, my friend, Judi, had given me a garbage bag full of high end upholstery samples that she had received from a friend who owns an interior design firm in Ft. Lauderdale. The samples were sumptuous ! Most particularly, I was attracted to a one yard piece of embroidered serpentine fabric with stylized pomegranate seeds.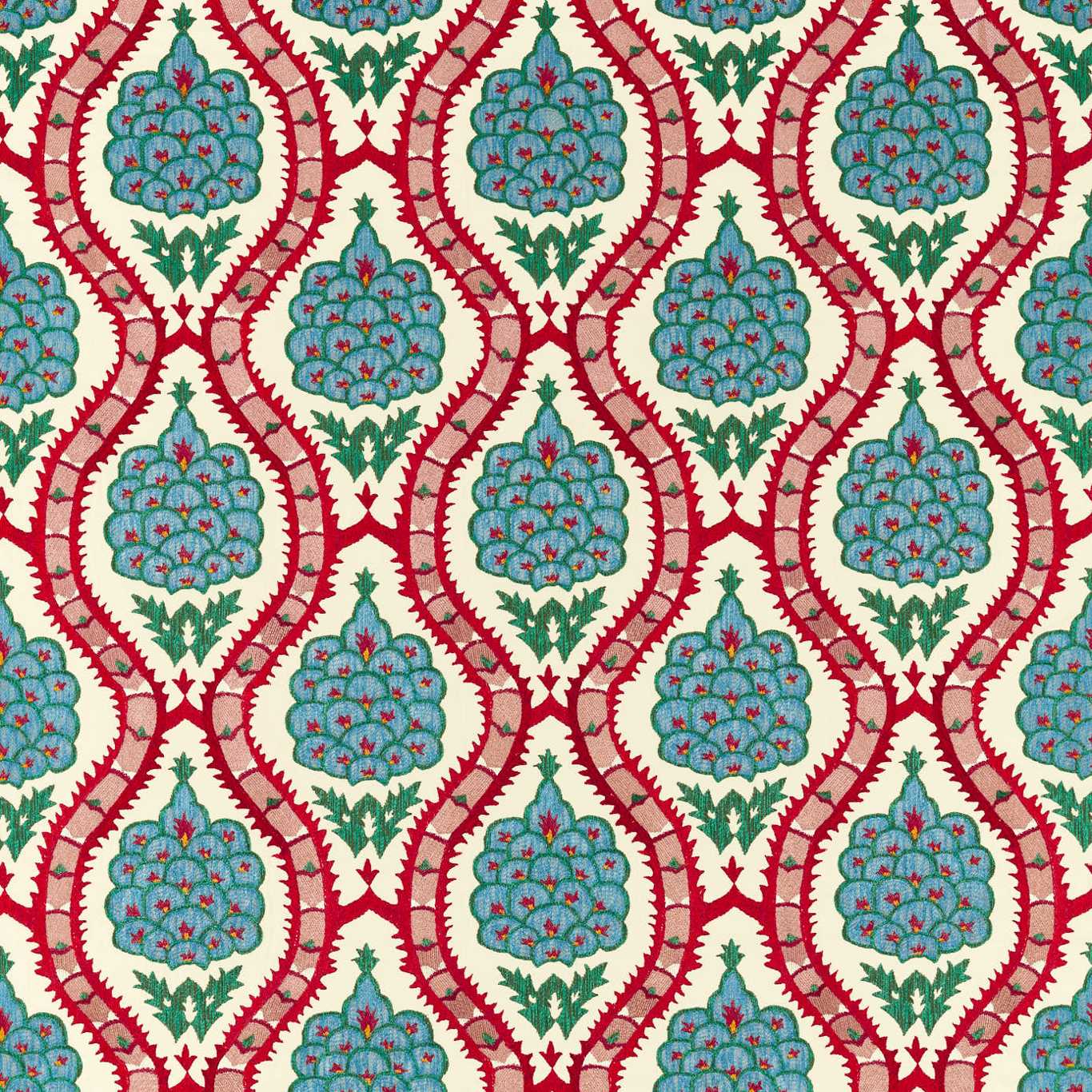 Execution
The design was wildly exotic and could effortlessly represent both the harrowing scenes of ancient Greek tragedy and the fruits and vegetation of the Near East. A column skirt seemed to be the standout choice since preserving every inch of the embroidered material was a top priority. But what else to go with the skirt ?
All of the manufacturer's tags were left on the samples so I researched the brand and found plenty of inspiration from enticing design stills.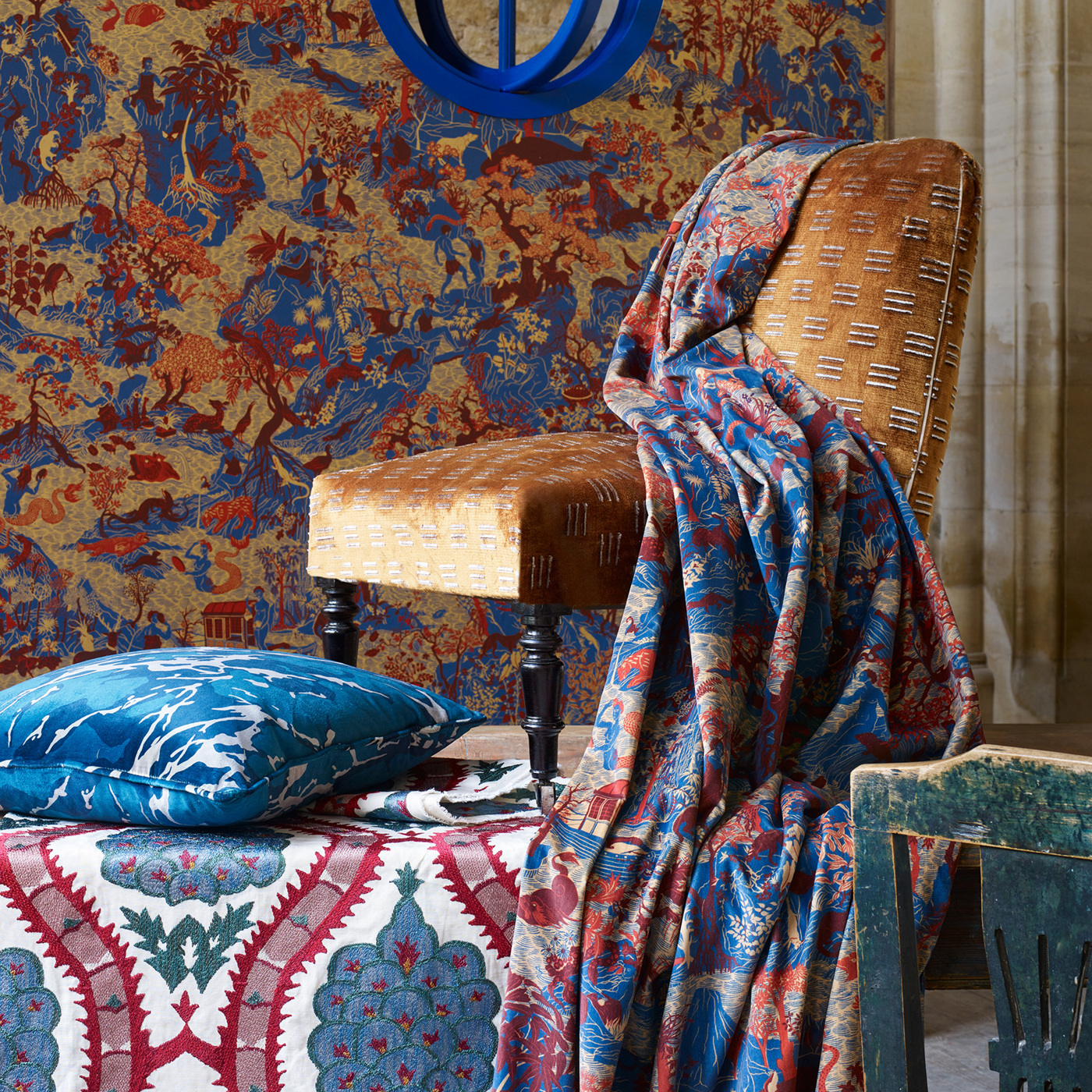 Although I wouldn't have originally thought of it, Zoffany paired the exact same trellis fabric I had in my hands with vivid cobalt blues. And serendipitously, I had a piece of cobalt blue velvet in the bag of samples. A sartorial love match was made !
Immediately, I had my vision: a boxy crop top that would be simple enough so as to not interfere with the wildness of the skirt, but elegant and accented enough to stand on its own. It was a fine line to balance, but I knew it could be done.
Fabrics-store.com offers a range of free sewing patterns to complement their bread-and-butter linen. To the shoestring costumer, 'free' is such an appealing word and so I downloaded the Agustina Boxy Top pattern to use with the pelagic blue velvet.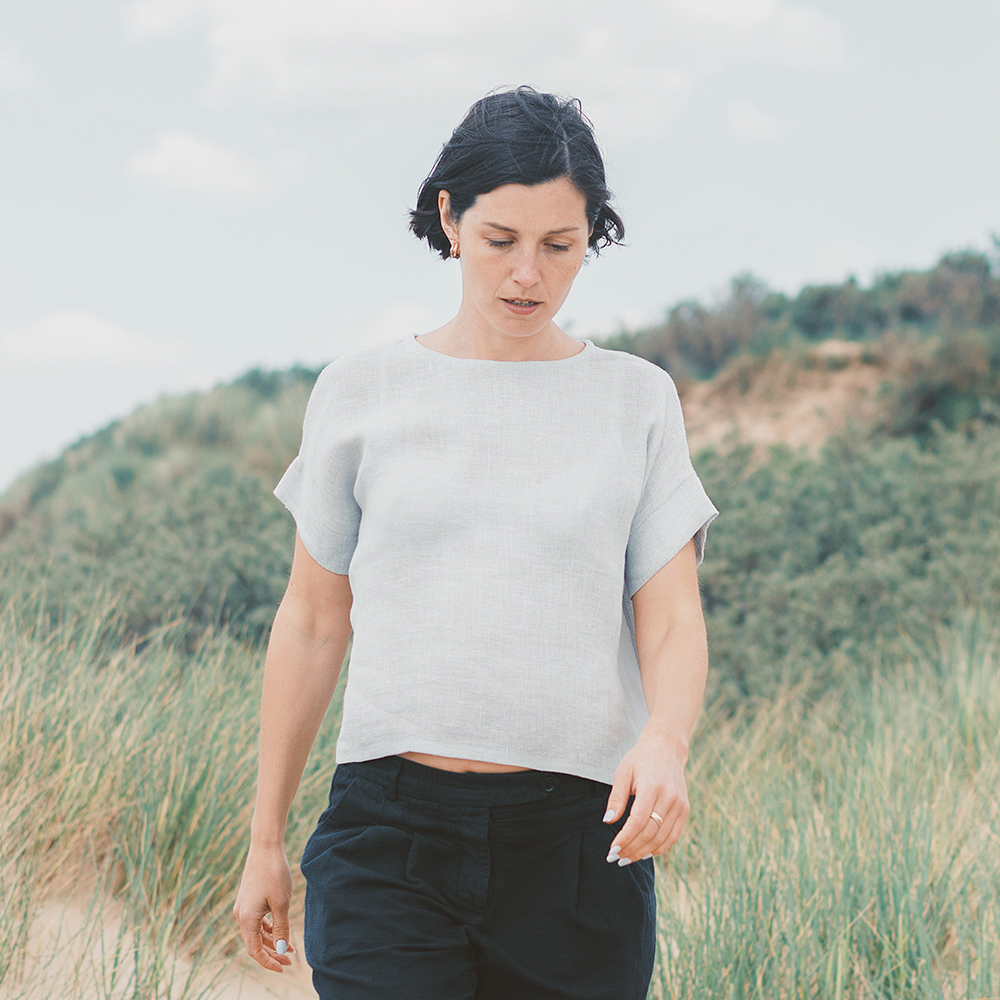 While the pattern had its merits, my fabric wasn't exactly the "suggested" material and therefore rendered the need for additional tailoring. Should I add darts ? No─ I had a better idea: create vaulted pleats pinched at the center front ! This produced the shorter-in-the-front, "scooped" crop top look I had dreamed in my head and after shortening the sleeves, I had an architectural masterpiece.
Shaping at the hips omitted the need for side seams while a back vent and coordinating zipper allowed for movement.
I fashioned a waist yoke with leftover linen from my Boris Gudonov sarafan and it was a perfect match in color and texture. Gorgeous !
Life isn't always as expected. And although I missed Medea, I didn't regret my couture ensemble that could rival the cover of any fashion-forward magazine. My only hope is that the theater's satellite issues are resolved before the next transmission.
Toi, Toi, Toi,

Mary Martha