Genealogy is a pastime that many people pursue with a gambler's passion. Addictive, the sport can lead posterity into an endless funnel of personal discoveries and historical finds. But I've never been one those people… until recently. When my grandmother died in 2020, the castoffs of old family photos found their way inadvertently into my hands and an insatiable curiosity soon followed. "Who were these people ?" I wondered. Several ancestors sparked interest for an immediate research project, but at the top of the list was my great-grandmother, Erma.
In celebrating her birthday month, I thought it would be fun to share the accomplishments and anecdotes of a woman who loved life and everything in it.
Born in Newark, NJ, Erma Eleanor Schoop shared her August 15th birthday with a very famous emperor. Perhaps you've heard of him ?
She was the daughter of a Methodist minister and moved frequently as a child, wherever her father was assigned a parsonage. Spending family vacations at Chautauqua Lake, NY, was a favorite memory of Erma's. So much so, that she often traveled back to the resort community throughout her life, usually bringing her friends in tow.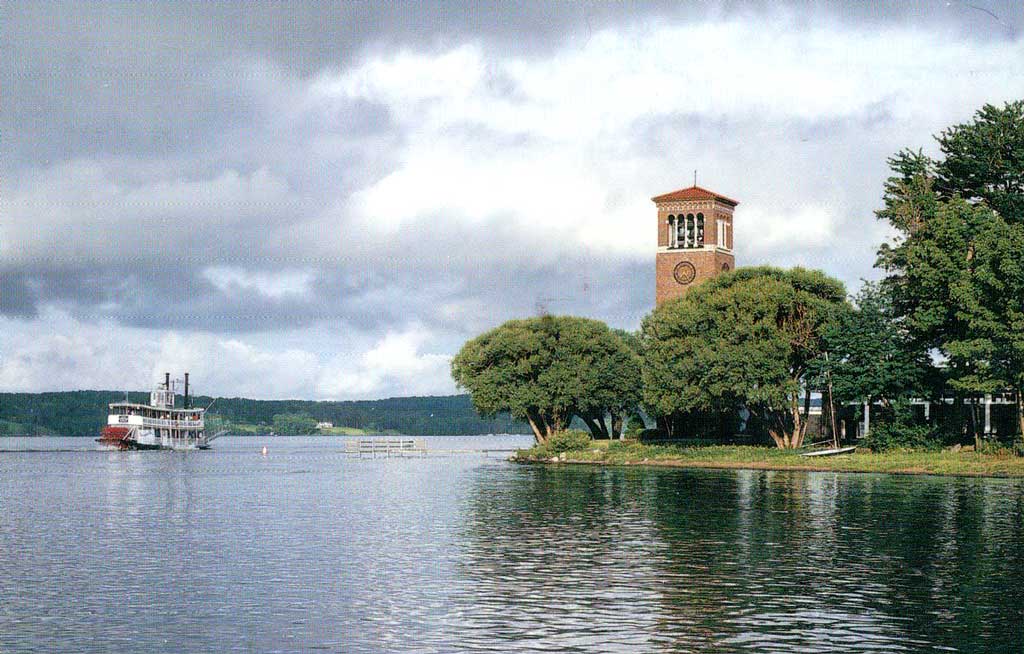 Having settled in Columbus, OH, during her senior year of high school, Erma went on to enroll at Ohio State University at a time when most women did not go to college.
During her years at college, Erma visited her brother and his wife in Florida and attended a dance at a hotel. It was there that she met a citrus grower named Bob Reynolds. Romance ensued and they knew they wanted to be married. So Bob travelled to Ohio to talk things over with Erma's father. Although agreeing to the union, her father had one caveat: "She has to graduate from Ohio State first !"
She indeed graduated and the couple married on July 18, 1928. Miraculously, her wedding gown remains in the family. Although it has yellowed from decades bygone, the flapper style dress is still in fairly good shape despite a few tears in the lace overlay. My cousin, Allison, modeled the dress recently during a photoshoot at Bok Tower Gardens.
Of all the questions that darted around in my mind, the most pressing query I had as I began my research on Erma surrounded her involvement in the P.E.O. Sisterhood.
Ever since I was a child, I would hear stories about how Erma served as the Florida state president from 1958-59 and was very active in her home chapter, U. My search produced fruitful results. In reading through one of Erma's many diaries, I discovered that she was initiated into Chapter U on May 3, 1938 ─ just a few years after the chapter had been formed. Almost all of her life she was an active member, even attending the International Convention in Philadelphia in 1952.
It was strongly because of Erma's involvement in P.E.O. that I, myself, wished to join the Sisterhood and serve as my chapter's president. Knowing that I have nearly fulfilled the second portion of that dream would surely make her proud.
Faith was a cornerstone of Erma's life. She was a longtime member of Beymer Methodist Church, which served as the site of her daughter, Eleanor's, wedding in 1956. Just look at those clothes !
Erma was a world traveler. And more extraordinarily, she was a world traveler when jetting off to far-flung destinations was not nearly as accessible as it is today. Sojourning with close friends and family, she made several trips across the United States and also visited exotic locales including Norway and Scandinavia, most of the European Continent and Britain, Australia and New Zealand, Brazil and South America, the Caribbean, and Canada. Her thoughtfulness was personified by the many presents she brought back to her loved ones.
Writing was also one of Erma's passions, and in 1976 she saw her book "The Fabulous Orange" published. As a history of citrus cultivation, processing, and marketing, it is truly… "fabulous !"
While she was known as a beloved mother and a good friend to her friends, there was something else that Erma loved in addition to her friends and family that cannot be overlooked. She loved jewelry; all kinds, the real and the costume. Anything that sparkled tickled Erma's fancy.
She may have adored jewels, but she never dressed in excess. Her style was quiet and tastefully done with just the right amount of accessories. Recently, I made a visit to the cemetery where Mina (the name all of the grandchildren called Erma) was laid to rest, modeling a dress from my mother's closet that closely resembles the style my great-grandmother would have worn.
Despite all her remarkable accomplishments, Erma is probably best remembered by her kind and easy-natured spirit. She had an infectious laugh, loved a good joke, and was hospitable to a fault. Sadly, she passed away from an extended battle with Alzheimer's before I ever knew her. However, through the stories and artifacts shared from various relatives, her memory remains alive. My hope is to perpetuate her legacy by the same tenets that guided her life. And just like Mina, having fun along the way is equally as important !
Toi, Toi, Toi,

Mary Martha