Sometimes, it is the decisions made on a whim that turn out to be the best. This is what occurred as I opened a regular, mundane e-mail from the Met promoting a new documentary on Luciano Pavarotti. I didn't know much about Pavarotti, personally, although his voice had always pleased my ears. With the doldrums of the slow summer months poised ahead of me, I figured, "Why not ?" and alerted my theater friends of the occasion.
The documentary was informative in that it taught me more about Pavarotti's life and highlighted his ebullient, larger-than-life personality. However, there was one thing missing in the context of the film and that was the preeminent tenor's notorious reputation for being "difficult". Although there were glimpses into tumultuous family spats, most bouts of "divo" behavior were brushed aside like specks of dust on a woolen suit. Naturally, the film was devoid of any serious damages to Pavarotti's persona, notwithstanding his extramarital affair with Nicoletta Mantovani.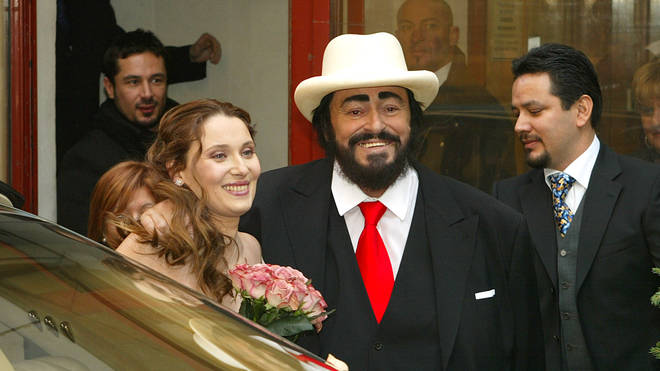 Without question, the summit for all was the extended clip of one of Pavarotti's celebrated performances of "Nessun dorma". Behind and around me, I heard uncontrollable sniffles and the muffled sounds of Kleenexes to congested noses.
Pavarotti's homeland and heritage of Modena, Italy, inspired the theme for my outfit worn to the documentary: Dripping in Diamonds. Situated between the fashion hubs of Milan and Florence, the northern Italian location evoked thoughts of trendy couture gowns and the glamourous styles. Brash and gaudy like a movie star, but also regal and polished, I grabbed one of my standby dresses from my closet: a sapphire blue one shoulder chiffon gown with rhinestone detailing on the shoulder. Years ago, I bought this gown on clearance at a consignment shop and now it was getting its turn in the spotlight. The jewels and gloves (and a purse "dripping in diamonds" ─ also a consignment find) were the icing on the cake.
A high bun with ringlets spiraling down was just right for my Italian diva look…
Oh, and those shoes ? They're used, too ! I bought them at a resale closet for $16. They're Ivanka Trump stilettos whose heights reach the heavens !
Leaving the theater that night, I had to trot back inside because of a missing pair of glasses I thought I had left behind. When I inquired at the podium in the lobby, one of the young attendants remarked that I all needed was a British accent. "Why ?" I asked. "Because you look like royalty" replied the attendant.

A diva I was.

Toi, Toi, Toi,

Mary Martha
Credits
"Pavarotti" documentary
Date seen: June 4, 2019