It's a well-known fact that opera is a breeding ground for steamy passages of heart-searing love and passion. Whether through a gripping duet of vocal intensity or timely choreography, an attendee of the opera ─ especially a shy one ─ should be prepared for some "seat squirming". And so, I braced myself for an assumptive afternoon of red hot heat in a retelling of one of the most notorious couples of biblical proportions: Samson and Delilah.
This new production was hyped because of its starring cast. When Elīna Garanča and Roberto Alagna were teamed together for Carmen in 2009, the fireworks were undeniable, so it has been said by many. Now, almost 10 years later, the two rejoined the stage in hopes of rekindling their chemistry.
Although I had not seen the performance of Carmen with Elīna and Roberto, I wasn't overwhelmed by what I saw in Saint-Saën's Samson et Dalila. Both performers did well on their own, but I wasn't moved by their "passion". Perhaps my expectations were too high, or maybe those same anticipations were more deflated by the cartoonish sets and costumes. Samson's hair, which was not nearly as long as I had hoped, dangled over a swath of heathered jersey knit and the neon lamé and garish design features on Dalila's gowns were almost an insult to the rich potential for styling this opera. Pooh !
Musically, my favorite moment came during the Bacchanale, which sizzled with Middle Eastern flair and energy. The corresponding ballet, however, was far more revealing than what my unprepared eyes had estimated. Remember what I said about seat squirming ? Well, it happened here.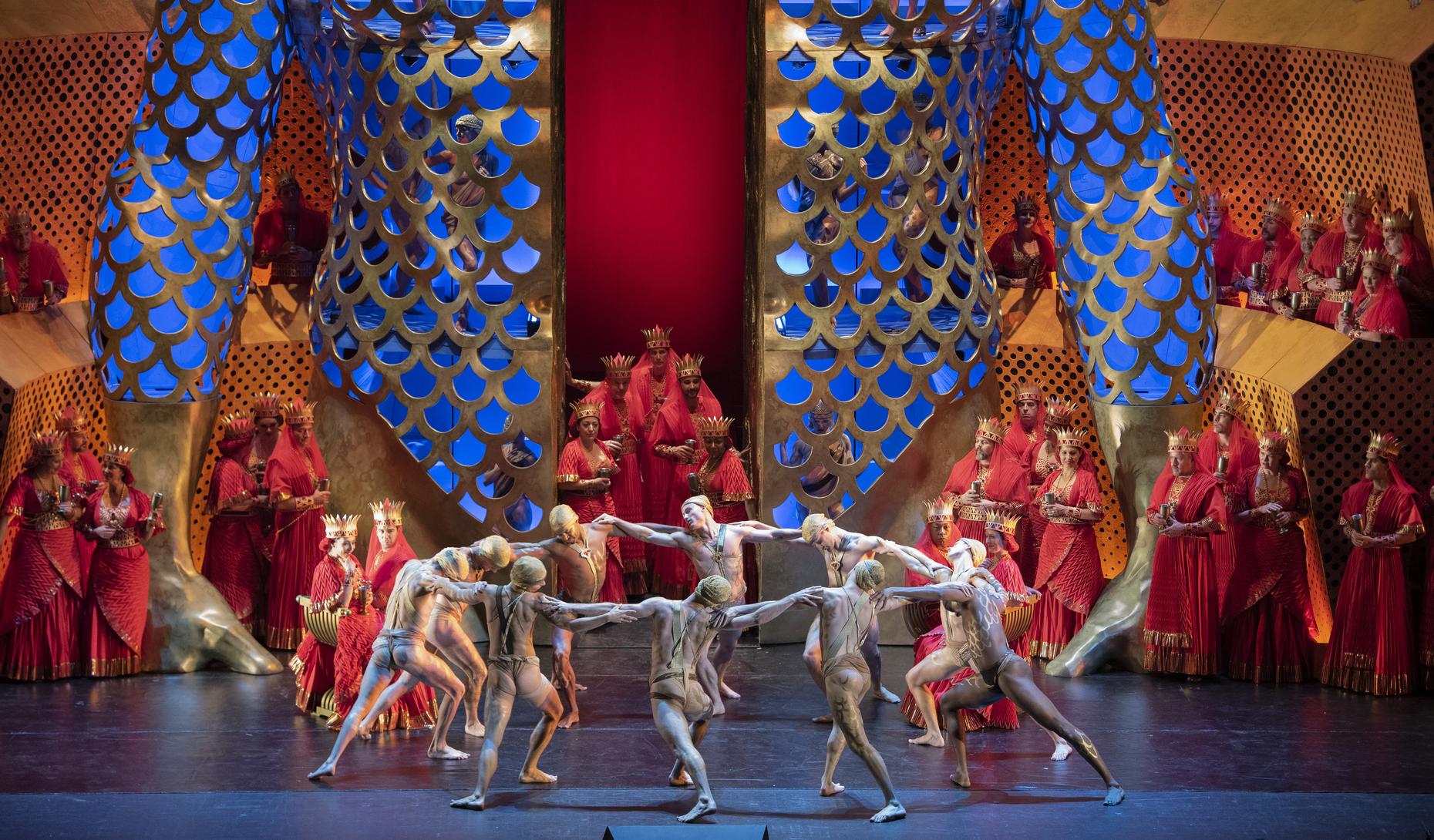 Reputed as a Philistine femme fatale, the excitement to dress as Dalila bubbled within me like a hot spring in an arid desert. However, with a new production, costuming can be a peculiar challenge since the non-existence of past performance photos brings about a crap shoot risk: will the costumes in the opera mimic those worn in the released promotional still shots ? It's a gamble, but one of an intense ruminating kind. For Samson et Dalila, the promotional media looked to be geared toward a 1970's disco glam/modern vibe with Elīna Garanča appearing to look like a sultry screen siren.
With that approach, I was thunderstruck by an idea after seeing a model dress on the Corset Academy website:
The dress reminded me of the raspberry pink halter neck gown worn in the promos and I had a dynamic plan for the design of my own: bright fuchsia satin and funky orange lace for the side panels.
Several mock-ups were created to manually model the curved lines of the side panels; the finalized muslin pieces were then cut and placed on the satin and lace for sewing. But during the fitting of the lining, I learned something had seriously gone awry: the dress was skin tight and I could barely move ! The next 10 days were spent letting out the seam allowances with mediocre results. Finally, it dawned on me that the only way the dress was going to fit was if I cut "expander" panels and sewed them to the back vertical edges of the dress. Crisis averted !
Although the cleverly concealed error wasn't my ideal method of creating a dress, a hindsight look into the process taught me that I shouldn't stuff my mock-ups too tightly ─ the cotton muslin became stretched and therefore rendered a faulty reading on the measurements. Lessons learned during sewing are invaluable for future creations.
In the end, I was elated with the design of the dress and how it hugged my body like a slippery satin snake. My mother styled my hair in "Desert Goddess" fashion, which was inspired by Olga Borodina's Dalila from the Met in 1998.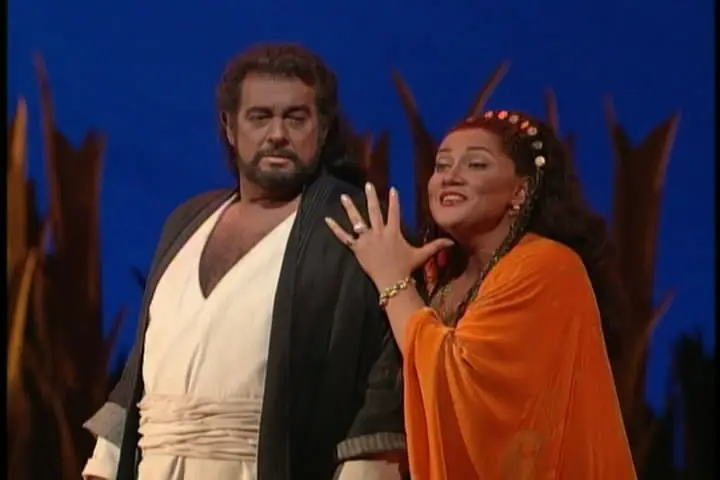 While my wrist was weighted in gold and leather bracelets and my shoes sparkled with the glints of Arabian sands, the real showstopper to this ensemble was the presence of glittering Swarovski crystals (over 500 of them !) that adorned the circular insets on the lace. Pictures cannot prove their luminescence, but the crowd at the theater noticed…
Dalila: a sense of worldly glamour with the seduction of a lioness. Samson et Dalila: a lion cub outfitted in plastic rhinestones.

Toi, Toi, Toi,

Mary Martha
Cast and Credits:
Samson et Dalila ─ Camille Saint-Saëns (1877)
Live in HD air date: October 20, 2018

Cast:
Dalila ─ Elīna Garanča
Samson ─ Roberto Alagna
High Priest of Dagon ─ Laurent Naouri
Abimélech ─ Elchin Azizov
An Old Hebrew ─ Dmitry Belosselskiy

Credits:
Conductor ─ Sir Mark Elder
Production ─ Darko Tresnjak
Set Designer ─ Alexander Dodge
Costume Designer ─ Linda Cho
Lighting Designer ─ Donald Holder
Choreographer ─ Austin McCormick
Live in HD Director ─ Gary Halvorson
Host ─ Susan Graham