Over the years, I have found that the more I am exposed to Wagner, the more I love it. It's complex, lush, and completely absorbing if given the right circumstances. Thankfully, I'm not the only one who harbors a cultish hankering for Wagnerian music. And so, off to Chris's we go for another Met Stars Live in Concert series !
Broadcast live from the Hessisches Staatstheater in Wiesbaden, Germany, the grand foyer proved to be one of the most gorgeous settings for a concert with the lighting shifting to fit the mood of each song. Although the program was not entirely Wagnerian (a thimbleful of R. Strauss was thrown into the mix), the quartet of Elza van den Heever, Christine Goerke, Andreas Schager, and Michael Volle made the most of the arias and duets… and the staircases ! There was a choreographed sequence of how the singers would enter and exit to avoid cutting into the next performance all while capitalizing on the thespian potential of the Neo-Baroque architecture.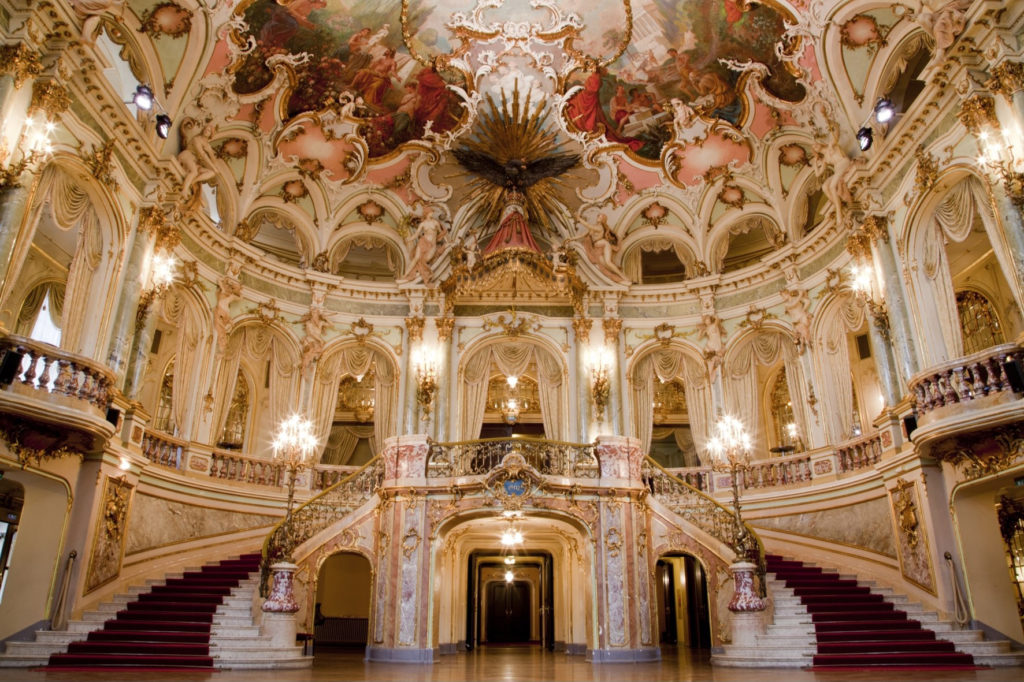 The greatest (and most accurate) of these tableaux came during the penultimate number with Elza van den Heever and Christine Goerke acting out the duet from Act II of Lohengrin, complete with balcony betrayal. Juicy !
The Cuisine
Our afterparty fare was a European hodgepodge of Gruyère and Bleu, open faced canapés, sauerkraut salad (similar to Korean kimchi), Riesling, and… banana bread. Well, it was almost European.
The recipe for the banana bread is an adapted version of Cookie and Kate's Whole Wheat Banana Bread with maple syrup as the sweetener (and butter in place of the oil). For years it has been one of my go-to staples for a "No White Flour, No White Sugar" treat. Thanks, Kate !
The Clothes
In thinking of a Wagnerian-inspired outfit, several elements came to mind:
1) Medieval gowns with long, wide sleeves
2) Knights in chainmail
3) Leather, lots of leather

Each of these characteristics can usually be observed during a typical Wagnerian opera. However, I wanted to create a more modern look and sought to avoid the following fashion pitfalls insomuch as looking like a:
1) Gothic punk
2) Biker
3) Cosplayer

A challenge, indeed. Leaving the angel sleeves behind, the rest of my outfit gave me just the right combination of Wagnerian features with a completely modern appeal.
The outfit and the concert were a terrific celebration and reminder of why I enjoy Wagner so much: drama and beauty intertwined as the complete work of art.
Toi, Toi, Toi,

Mary Martha
How exactly did I create my sequin tunic ? The answers can be found in my accompanying tutorial post: http://costumeclosetcouture.com/2021/05/29/sequin-mail-drafting-a-cowl-neck-chainmail-tunic/
Cast and Credits
Wagnerians in Concert
Hessisches Staatstheater
Wiesbaden, Germany
Live broadcast date: May 8, 2021
(Date seen: May 20, 2021)

Elza van den Heever ─ soprano
Christine Goerke ─ soprano
Andreas Schager ─ tenor
Michael Volle ─ bass-baritone
Craig Terry ─ piano