Have you ever come across an object that so uncannily embodies the persona of someone you know that you almost have to do a double take ? This is exactly what occurred as I was thumbing through an issue of "Julie's Picks" swatch club one summer afternoon.
There it was: a royal blue burnout velvet that had me screaming inside my head, "Faith !!!!"
Faith has an affinity for blue (and royal blue in particular) the way I have an alliteration affinity (and am an absolutely ardent advocate about appropriate and ample application !). When I spotted an additional royal purple colorway listed on the page, the wheels in my head began to cycle at rapid RPMs. Matching dresses !

Was I being irrational ? After all, I have never met Faith in person and trying to do a fitting online seemed impossible. But that didn't matter… it was destiny and as soon as the fabrics became available, I snatched up several yards of each.
Originally, I envisioned this duo of dresses for Christmas, but with no opera outfits to conjure, my schedule was left wide open. Since Faith and I share September birthdays that are 6 days apart, it seemed like an appropriate deadline and perfect birthday present. Birthday dresses, it is !
Now came the tricky part: choosing a pattern style that would suit two completely different figures ! Because of the low cost, I turned to Lekala patterns since I knew that they offered customized PDF patterns based on individual measurements for a bargain. Velvet begs for the opportunity to be draped and ruched so the faux wrap style of #4078 was my top choice. The V-neck and triangular inset promised a slimmer appearance, which is desired by all.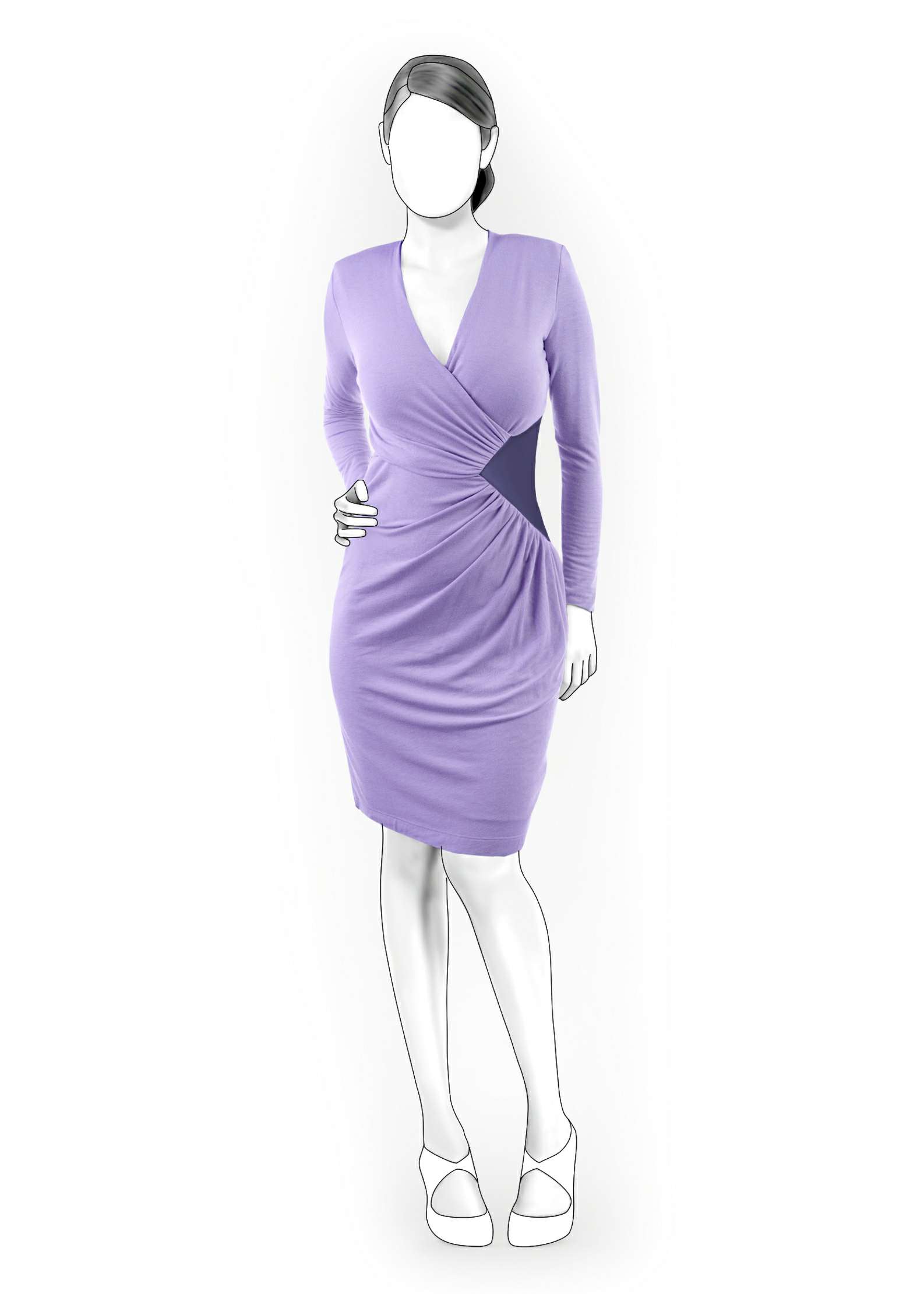 Agreeing to the style and process, Faith sent her measurements and I began to work… but first, a detour. Since the almost-neon purple ITY knit I ordered for the lining of my dress was ill-matched to the deep plum of the purple velvet, I decided to use the ITY knit for a mock-up, which I wore to Jonas Kaufmann's concert in July.
The mock-up proved two things: 1) the dress needed to be looser in the bust and upper arms, and 2) the hem could be lengthened just a smidge to cover the knee, as per Faith's request. This was done for the real deal. Taking precautions, I cut out the patterns with extra seam allowances, but sewed at only a ¼" seam. Just a tip: cut your stretch velvets with the right sides facing each other… it's too slippery the other way !
So was the grand plan pulled off without a hitch ? Yes ! Cutting it close, I mailed Faith her dress just days before her birthday, holding my breath to learn of its fit or misfit. It was a gamble, but I heaved a mighty sigh when I received word of its perfection. Whew !
Faith chose to style her dress casually with leggings and boots and with coordinating accessories. As for me, I had the professional modes in mind and added gold jewelry and stockings to complement a dressed up business look.
This was an accomplishment I will always remember: sewing my first fitted project for someone, virtually. The moment was all the more relished by the satisfactory result and the shared bond of two friends with matching birthday dresses.
Toi, Toi, Toi,

Mary Martha