When you think of the American Wild West, what comes to mind…? Cowboys ? Rocky mountains and perilous cliffs ? The California Gold Rush ?
What about Italian opera ?
Puccini's stirring masterpiece, La Fanciulla del West, wrangled together the landscape and romance of one of America's greatest periods in history into an absolutely captivating production. The opening score swept with vastness and virility, like the opera's elusive anti-hero, Dick Johnson, played by an even more elusive Jonas Kaufmann. I had waited years to finally catch Kaufmann in a Live in HD performance (he had previously backed out of both Manon Lescaut and Tosca) and I was ready for my due !
I loved nearly everything about this opera: the wholesome heroine, the realistic production setting, the old-fashioned romance, and the wily game of 5 card draw. I laughed, I didn't cry, I swooned. In fact, I found the opera and production so endearing that I went to see the encore the following Wednesday !
What struck me as so poignant in this opera was how the librettists wove the theme of the opera around a line of Scripture from Psalm 51: "there isn't a sinner in the world who can't find salvation." Little did I know that that passage would play an enormous role later in the opera as the title heroine, Minnie, saved Dick from being publicly hung. The effect was monumental.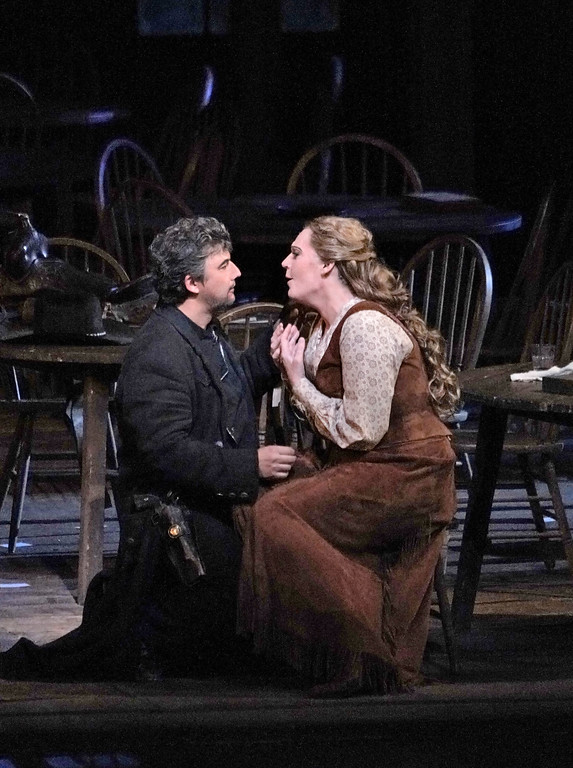 There was no doubt that my outfit for Fanciulla would come direct from my mother's closet. Wearing an unworn dress my mother bought at the Mast General Store in North Carolina years ago (the tag was still on it), I had a solid foundation for my costume. The diminutive flower print and lace detailing around the collar and sleeves were fitting features to match Minnie's simplistic and pure character.
Alone, however, it wasn't enough ─ it needed something extra… something "Little House on the Prairie"… I researched online and found a picture of a pioneer apron that I thought would be perfect for the outfit. Taking measurements, I drafted a quick pattern for a ruffled muslin apron with front pockets just like the one below:
Now I looked the part ! But there was a missing piece to my frontier get-up ─ the addition of Minnie's favorite companion: her rifle. This was essential to the character and also to my pictures, although you can imagine I left the gun at home while I went to the theater.
Ready, aim, fire !
While it is a known fact that Dick Johnson stole Minnie's first kiss, it can also be confirmed that the tenderness of Puccini's La Fanciulla del West stole my heart.

Toi, Toi, Toi,

Mary Martha
Cast and Credits:
La Fanciulla del West ─ Giacomo Puccini (1910)
Live in HD air date: October 27, 2018

Cast:
Minnie ─ Eva-Maria Westbroek
Dick Johnson ─ Jonas Kaufmann
Nick ─ Carlo Bosi
Jack Rance ─ Željko Lučić
Sonora ─ Michael Todd Simpson
Ashby ─ Matthew Rose
Jake Wallace ─ Oren Gradus

Credits:
Conductor ─ Marco Armiliato
Production ─Giancarlo del Monaco
Set and Costume Designer ─ Michael Scott
Lighting Designer ─ Gil Wechsler
Live in HD Director ─ Gary Halvorson
Host ─ Susanna Phillips