Manners, manipulation, mysticism, and morbidity permeate Sir Walter Scott's gothic novel of thwarted romance like a damp fog over the rugged Scottish Highlands. After an article recently published for suggested opera reading, I dove into a delightful immersive study of reading opera's literary forerunners. "The Bride of Lammermoor" was near the top of my list since its theatric counterpart was due up for the Met's 2021-2022 Live in HD season.
I loved the novel. Even with its gloomy pallor, I found myself pleasurably enveloped in the formality and class distinctions of the early 18th century Scottish setting. But how would the opera, slightly amended in its story and characters, fare against the benchmark book ─ especially with a radical, modern day-set production ?
Uncharacteristically for me, I was rather indifferent towards Simon Stone's half opera/half movie production. Many parts of the story felt plausible in the present day Rust Belt setting while other stunts left me nonplussed. While both the action of the opera on stage and the cinematic video screen projection above were cleverly produced, I felt they would have been more effective as separate entities rather than interpolated within the same space (sensory overload !). Unquestionably, the singing was explosive ─ bel canto has a penchant for fireworks !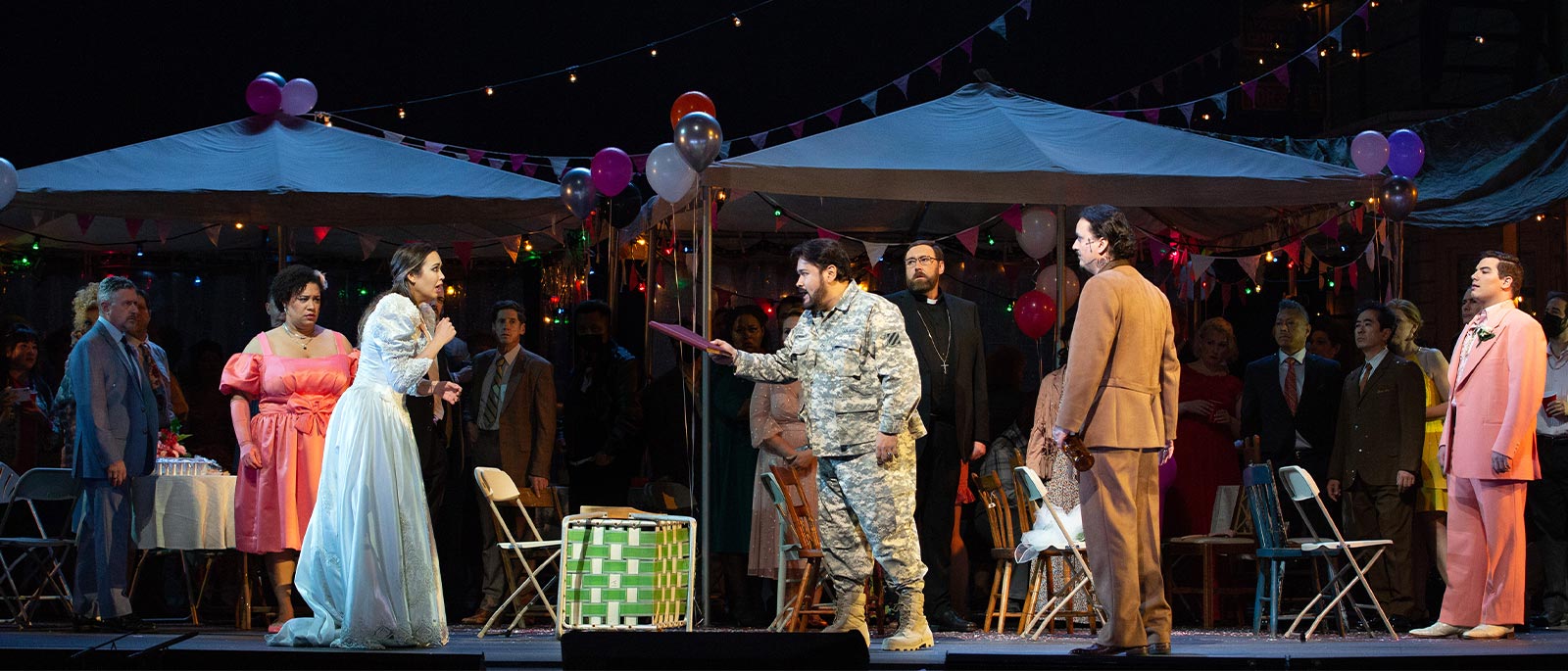 The outfit for Lucia was obvious: the famed "bloody" wedding gown from the Act III mad scene is so ubiquitously tied to the opera (regardless of the decade or production) that it's almost clichéd.
Splattering scarlet paint over a delicate display of satin and lace wouldn't allow me many opportunities for wearing the designated dress again, although the thought was tempting… especially since the gown worn in the new Met production looked uncannily similar to my mother's actual wedding gown from 1987.
Fear not; I wouldn't do that to my mother's dress (or anyone else's, for that matter). With a modern production and no prior hint to its styling, I decided I would take a more interpretative approach to the blood-stained garment while still keeping an oft-chanted bridal tradition.
Something Old
Gloves were originally not going to be part of my outfit, but yet as I studied the John Everett Millais painting, I realized it was fitting.
These gloves were given to me by a friend and neighbor, who used to wear them out and about in Wisconsin, as was the proper thing to do at the time. Thank you, Miss Johanna !
Something New
Because there was no possibility of saturating a real wedding gown in blood (or the likes thereof), I wanted to have something that was evocative of blood without actually looking like it. I've had my eye on a Vogue pattern for sophisticated bolero jackets for several years and knew I would use it to my bloody advantage. Initially aiming to sew the ¾ sleeve version with the pleated ruffles, I altered my plans when I came across an irresistible fabric deal: corded nylon lace with sequins ─ $2.99/yard. I bought five yards.
Changing styles was seamless since the bell flounce sleeves of View D reminded me of the 18th century, which directly mirrored the time in which the original story was set. (Note: I had my mother style my hair based off the images on the pattern envelope… so haute, so mad !!)
The way that the pattern was drafted, I needed to alter the length of the sleeves in order to have the flounce sit higher on my arm and not look so much like a 1970's disco queen. Eight inches were subsequently removed from the sleeves, which gave me that 1700's feel.
Something Borrowed
The dress I wore is very special because it played a starring role in someone else's life. Charmingly, the white satin A-line gown employed to represent Lucia's wedding gown was not intended for a bartered bride, but rather… a debutante !
My friend, Borden, wore this same gown in the early 2000's when she made her debut. And after many years, it still looks great. Thank you, Borden !
Something Blue
And what would the bridal tradition be without Something Blue ?! Well, there was no question as to what that would be…
Bought for $16.99 at a resale store (thank you, Miss Michelle !), my royal blue and rhinestone studded stilettos steal the show wherever they make an appearance ─ from the "Pavarotti" documentary to Anna Netrebko's Viennese concert. 'Fabulous' doesn't even begin to describe their glamor.
My last opera of the 2021-2022 Live in HD season hit all the right notes. Indeed, it was a bloody mad time !
Toi, Toi, Toi,

Mary Martha
Cast and Credits:
Lucia di Lammermoor ─ Gaetano Donizetti (1835)
Live in HD air date: May 21, 2022

Cast:
Lucia ─ Nadine Sierra
Edgardo ─ Javier Camarena
Enrico ─ Artur Ruciński
Raimondo ─ Christian Van Horn

Credits:
Conductor ─ Ricardo Frizza
Production ─ Simon Stone
Set Designer ─ Lizzie Clachan
Costume Designers ─ Alice Babidge and Blanca Añón
Lighting Designer ─ James Farncombe
Projection Designer ─ Luke Halls
Choreographer ─ Sara Erde
Live in HD Director ─ Gary Halvorson
Host ─ Anthony Roth Costanzo