Devilish and cunning, the rakish Don Giovanni swept into town.
His words beguiling and gestures disarming, his reputation carried more than a frown.
And now with his fellow, by name, Leporello, he made his latest attempt.
For poor Donna Anna, betrothed to Don Ottavio, could offer only contempt.
It was her elderly father of nobility's blood that came to her rescue at once,
But "too little, too late" was the defense and at sword's jab the man fell like a dunce.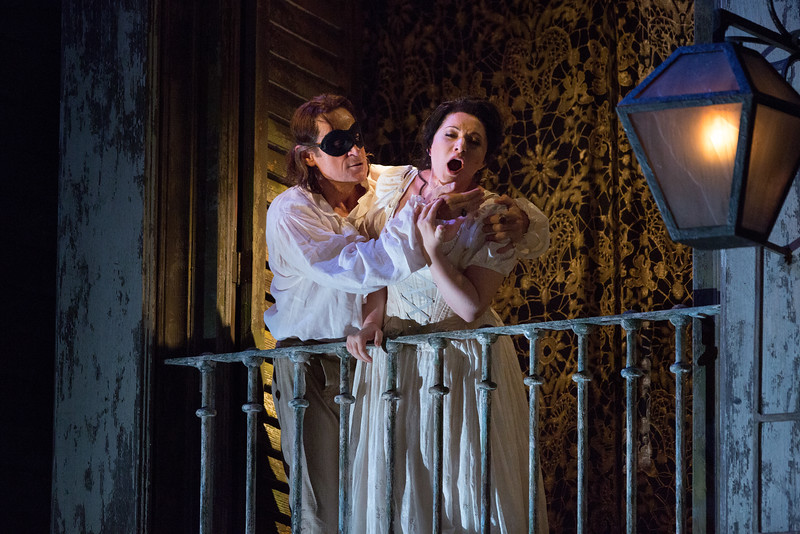 With conquests left to behold, the Don ran after the rustling skirt.
If only he knew that the scorned Elvira would turn his life into trodden dirt;
A crusade and mission urged her on and from town to town she flew,
Warning the women (and most likely victims) of what they unknowingly knew.
From peasant to princess, no one was safe from Giovanni's philandering curse.
Now to the banquet of happiest couple, shouldn't I try to keep this terse ?
Zerlina succumbed; Masetto enraged, he gathered together a mob,
To pluck from the earth the sly and brazen cad of unholy, calamitous job.
Backed in a corner, his person in peril, the man of misbehavior in doubt;
He swapped into clothes of his hapless friend (turned foe) and escaped without a shout.
His pursuits still vulgar, his actions unchanged, could the villain ever be stopped ?
A walk in the graveyard, perhaps the evening repast, could render the charges be dropped.
Remember the man, called "Commendatore", who departed with last breath spent ?
His ghost revived in chiseled stone with the dire last call of "Repent !"
But the obstinate rake refused to relinquish his grips on feminine flesh,
With no other choice, the floors agape, the hellish flames swallowed his body afresh.
The vermin extinguished, the story could end, but here's the final sitch ─
When Mozart's to blame, one should expect a lesson for both the poor and rich.
What should I wear, I asked myself, to an opera of class shown about ?
For distinctions are clear between master and slave, the truest of nobles and the notable lout.
Mozart's maidens are timeless and fair regardless of rank or style of their hair;
From Anna, Elvira (both Donnas, you see), to lowly Zerlina, her dress with a tear.
Baffled and miffed, I wrestled with such: for whom to portray, which one of the doves ?
A closet of merit should cater to all, but given the choice, pass me the gloves !
A lady who's worth her virtue at all must harbor her secrets from the presence of all,
But since I've managed to rhyme thus far, why not divulge both big and small ?
The golden tank of consignment birth, resurfaced from outings of drawer-bound dearth;
Yes, it's true how much it is used, from Indian sari to Desdemona's innocent mirth.
Demure was the purse, deluxe the skirt (whose waist was pinned after a bout of torque),
And best of all, this I confess, a velvet shawl from the Port Authority in New York.
What are those dots, which catch the eye, and bring to sight a glimmering shine ?
To keep at bay the disheveling wind, a thought ─ an act ─ must supplant the crowning line.
When a lady needs to look her best, she never leaves home with her hair in a mess;
Aristocracy gave need for address, for women of rank needn't accept anything less.
And now with my hooks and needles aflight, a snood I fashioned with all of my might─
Yarn of alpaca to match the hue of my hair and beads of pearl knotted on tight.
Prim and proper, my hair was corralled like a breath-beaten filly who's had it with crowds.
Accented with jewelry and earrings of gold (and let's not forget the gloves of renown),
The outfit was ready to make its debut for all of them who bought tickets to view,
The opera, a gem for Mozart's raptly devote, which escapes the feelings of only a few;
It's part of that limited group to which I submit: with Mozart, I'm often not "over the moon",
But the Don was persuasive, unscrupulous, too; no lady immune: all I could do was swoon !
Toi, Toi, Toi,

Mary Martha
Cast and Credits:
Don Giovanni ─ Wolfgang Amadeus Mozart (1787)
Live in HD air date: October 22, 2016

Cast:
Donna Anna ─ Hibla Gerzmava
Donna Elvira ─ Malin Byström
Zerlina ─ Serena Malfi
Don Ottavio ─ Paul Appleby
Don Giovanni ─ Simon Keenlyside
Leoporello ─ Adam Plachetka
Masetto ─ Matthew Rose
The Commendatore ─ Kwangchul Youn

Credits:
Conductor ─ Fabio Luisi
Production ─ Michael Grandage
Set and Costume Designer ─ Christopher Oram
Lighting Designer ─ Paule Constable
Choreographer ─ Ben Wright
Live in HD Director ─ Matthew Diamond
Host ─ Joyce DiDonato