Richard Strauss must have had an unusual sense of humor. While Der Rosenkavalier is not as much of a cerebral conundrum as Ariadne auf Naxos, the wild comic relief of the former opera is enough to cement its composer as a farcical magician. Offsetting Hugo von Hofmannsthal's risible libretto, Strauss's music melts into euphoric rhapsody. Those Viennese parlor strings throughout the opera whisk me away to paradise like a celestial chariot racing towards the clouds.
Although Rosenkavalier is a longstanding favorite of mine, I was especially elated to hear such a wonderful cast. When Lise Davidsen is performing, it's always a treat and I looked forward to seeing her as the Marschallin with Samantha Hankey as her teenage lover, Octavian. Both sounded superb. However, the gap in stature between the two made for awkward visuals on stage.
The supporting cast more than contributed to the performance's success. There is not a better Sophie, nor Baron Ochs, than Erin Morley and Günther Groissböck, respectively. Bravi !
Besides the intriguing triple role play of the character Octavian, I am most fascinated by the Marschallin in the opera. She's clever, foreseeing, a lady of means, and sings some of the most achingly beautiful music in Act I. When I think of Der Rosenkavalier, it is she who first comes to mind.
Wisely, Robert Carsen's smart production is set in 1911 Austria, the year the opera premiered, and is a departure from the original 18th century dictates. However, the updated setting feels so hand-in-glove that I don't long for the panniers and pompadours of old. With the year of the production as a fountain of inspiration, my objective was to create an outfit that was strictly 1911 in its silhouette and mode. I learned much of the fashion trends of the time from this article: http://thevintagesite.com/?p=1399
A skirt suit with pleats and an endless supply of buttons seemed en vogue for the year. When I found a 1911/12 reproduction pattern on Etsy, I bought the PDF file and taped the printed pages together. Because I was concerned that a vintage pattern would be significantly smaller than my own measurements, I made a mock-up, which turned out fine. Time to cut the fabric !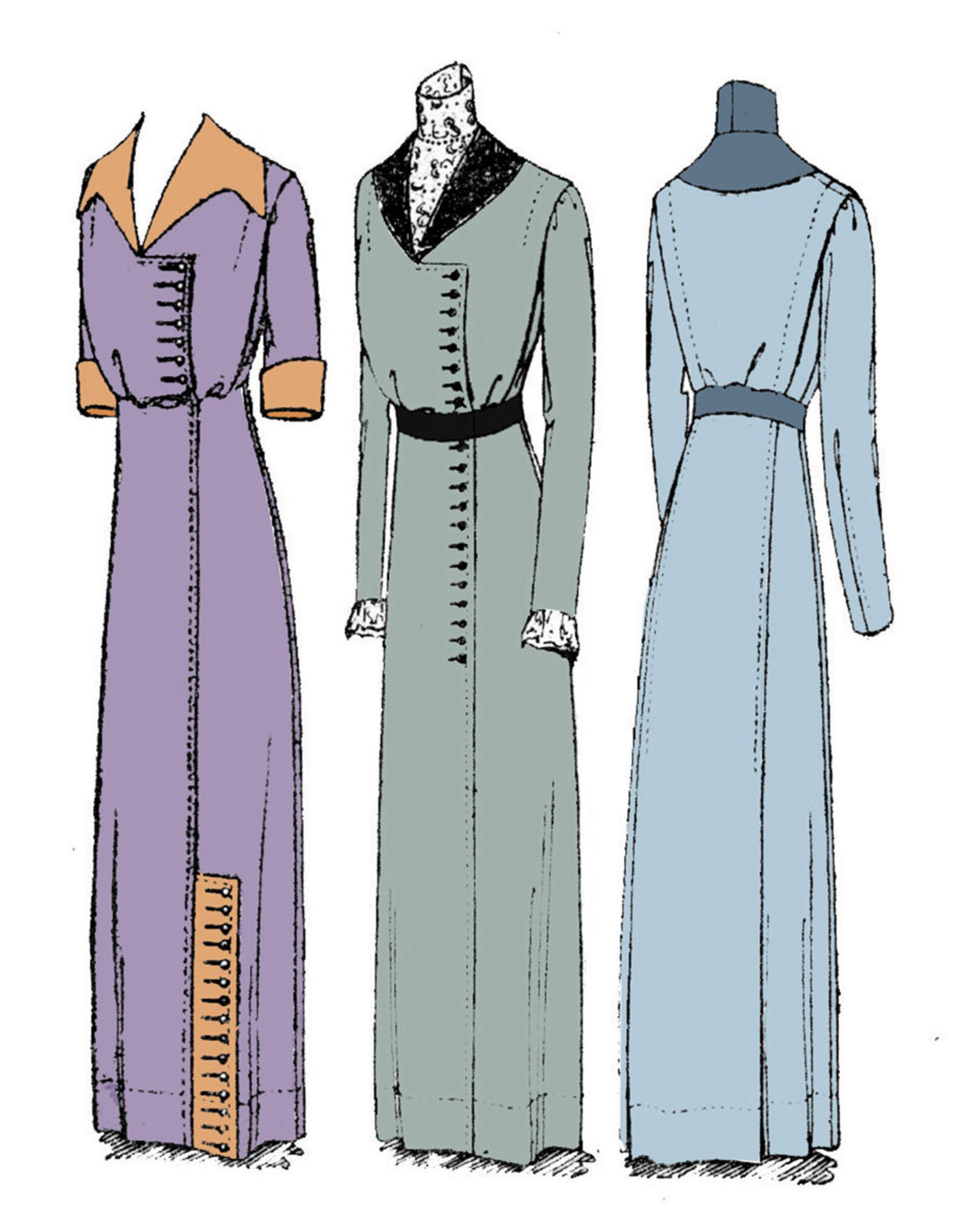 Choosing the right material was key. After much deliberation and research, I found a sumptuous raw silk chevron suiting from Folkwear that was just the perfect color of cream to pair with some leftover black wool suiting that I intended to use for the collar and belt of the dress. With a modest price tag for 100% silk, it was a steal.
Lastly, I used Elsewhen Millinery's Imogen hat pattern for a voluminous "bird's nest" hat straight from the 1910's. The result was pleasing (albeit, my finished hat was a bit too snug).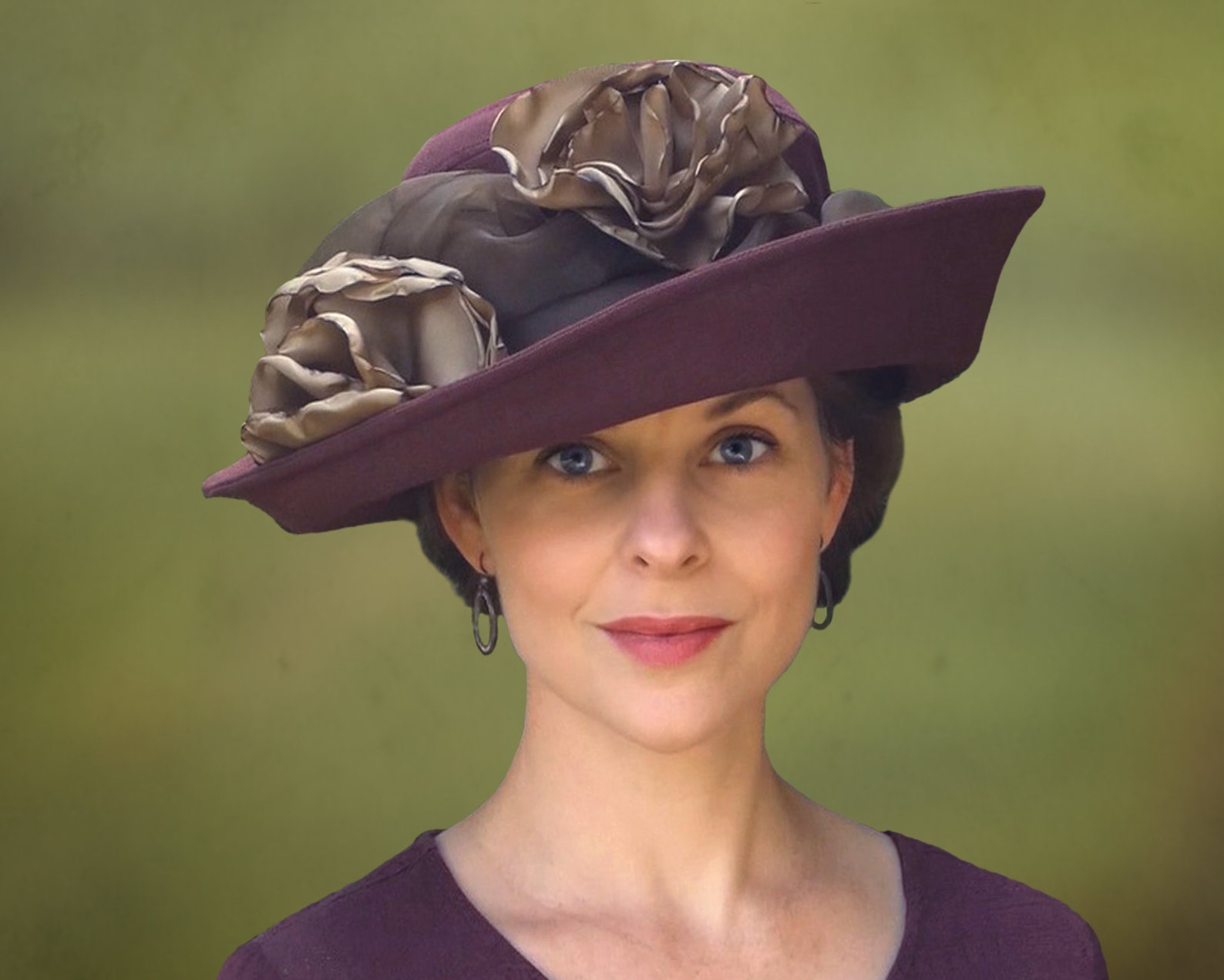 And, ta-da… an Edwardian lady !
The instructions for the dress were sparse, yet adequate, but I didn't follow them precisely. Instead, I scrutinized photos from a blog post of a lady who had sewn the pattern for a garden party. Her descriptions and detailed construction photos helped tremendously.
On purpose, I didn't sew the back skirt pleats over the darts since I was concerned about the skirt being too tight. Gracefully, they fell in loose folds into a slight train at the back.
And a secret: I used Velcro to close the dress ! Although it was never my desire, time constraints forced me to do the unthinkable. Sometime, when life isn't so busy, I plan to make things "right" with this dress and sew buttonholes or a more proper closure.
Wearing my comfy silk dress with it's sharp black accents, lace chemisette, hat, and leather gloves made me feel like a First Lady ! So elegant and regal was the ensemble… why don't women dress like this anymore ?!
A rambunctious romp, wistful reflection, and a silk suit dress worthy of a lady… Der Rosenkavalier makes for an artful trio.
Toi, Toi, Toi,

Mary Martha
Cast and Credits
Der Rosenkavalier ─ Richard Strauss (1911)
Live in HD air date: April 15, 2023

Cast:
Marschallin ─ Lise Davidsen
Octavian ─ Samantha Hankey
Sophie ─ Erin Morley
Annina ─ Katharine Goeldner
Italian Singer ─ René Barbera
Valzacchi ─ Thomas Ehenstein
Faninal ─ Brian Mulligan
Baron Ochs ─ Günther Groissböck

Credits:
Conductor ─ Simone Young
Production ─ Robert Carsen
Set Designer ─ Paul Steinberg
Costume Designer ─ Brigitte Reiffenstuel
Lighting Designers ─ Robert Carsen, Peter Van Praet
Choreographer ─ Philippe Giraudeau
Revival Stage Director ─ Paula Suozzi
Live in HD Director ─ Gary Halvorson
Host ─ Deborah Voigt