How could I resist ?! When Cinderella slips her fair foot into the shoe of Massenet, it's bound to be a ball ! My bubbling excitement aside, I was highly enthused when I espied Laurent Pelly's whimsical production perched on the latter portion of the Met's Live in HD 2017-2018 schedule. Would the slipper fit ?
My motives for seeing the opera did not begin and end with the story of Cinderella, but rather Massenet─ Several years prior, I had been deeply moved by a recording of the "Meditation" piece from Thaïs as I was struggling with a health issue. The soothing sounds of the strings were beautiful as well as edifying to my body and spirit. Since then, I had long desired to attend a Massenet performance of any title.
So how did I Cendrillon suit me ? Well, not as much as I had imagined. Thinking of a fairy tale, I expected the music to be joyous and buoyant. While there were moments of bombastic humor during scenes with Stephanie Blythe's Madame de la Haltière and her two balloon-bottomed daughters, I wouldn't describe the score as a perfect fit. However, the overall appeal of the story was enough for me to overlook the damp flaws in the music.
Back to my bubbling excitement… The occasion of Cendrillon screamed out loud for me to wear a ball gown─ a BIG, b-r-o-a-d, beautiful ball gown ! A girl could only dream… Since teaching myself to sew in 2016, my projects had been kept to conservative accessories and commercial pattern dresses. But for such a grand occasion, I wanted to branch out and make something that was truly elegant and couture. Looking over the production photos, the creamy eggshell gown in the opera appeared to have been sewn from satin with its hem ombré dyed in charcoal.
Admittedly, I thought it looked odd and very unusable ─ would I ever be able to wear a gown with a blackened bottom out in public ? Emphatically, not ! No, the gown in the opera was not for me, at least not all of it. Since the price of a full satin skirt would have sent my pocketbook to the gallows, I opted instead for a thrifty gathered tulle skirt. Here are a few of my preliminary sketches:
Searching for guidance, I stumbled upon a site called the Corset Academy and knew I had found my answer: I spotted the most beautiful tulle ball gown skirt I had ever seen and video recorded in easy to follow tutorials so I (and others) could emulate its cloud-like glory. I signed up for the free trial and eventually bought an annual membership.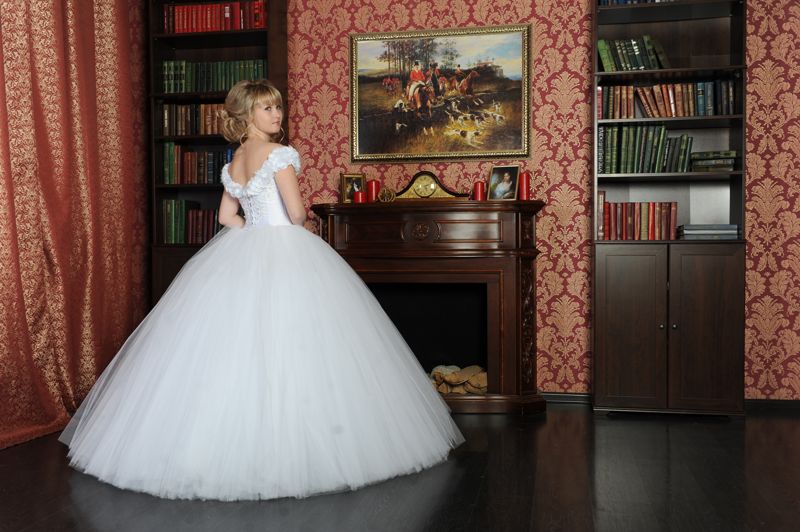 While I did not wear a hoop skirt underneath the gown, a full crinoline suited the style better, especially since 50 yards of tulle wasn't enough to disguise the appearance of a peeking steel bone from beneath the skirt's lining. Even without the hoops, the gown was voluminous. I dubbed the creation of this gown as "Project MASSenet" for a reason…
The gown was complemented with a corset back closure on the creamy matte satin bodice.
My mother fashioned my hair into a stylish French twist. I just love the elegance of the pearly barrette in its rolled knot !
The process of sewing the ball gown was eye-opening: not only did I learn couture techniques for sewing formal garments, but I also discovered that my mother's Singer sewing machine, which had been hibernating under her bed since the early 2000's, was unbeknownst to me, broken. During the gathering of endless strips of tulle ruffles, the bobbin threads continued to snap and brought about a maelstrom of frustration. After the opera, I made an appointment with a local sewing shop to have the machine cleaned whereupon I learned its malady: cracked gears and irreplaceable damaged parts. The diagnosis was fatal and I had to part with my machine. But just as in the story of Cinderella, there is always a silver lining: I purchased a superior Baby Lock machine and serger and it has made all the difference in my sewing.

The slipper of Cendrillon may have been a misfit, but the quality and ease of my Baby Lock machines couldn't be a more perfect fit.

Toi, Toi, Toi,

Mary Martha
Cast and Credits:
Cendrillon ─ Jules Massenet (1899)
Live in HD air date: April 28, 2018

Cast:
Cendrillon ─ Joyce DiDonato
Prince Charmant ─ Alice Coote
La Fée ─ Kathleen Kim
Madame de la Haltière ─ Stephanie Blythe
Pandolfe ─ Laurent Naouri

Credits:
Conductor ─ Bertrand de Billy
Production ─ Laurent Pelly
Set Designer ─ Barbara de Limburg
Costume Designer ─ Laurent Pelly
Lighting Designer ─ Duane Schuler
Choreographer ─ Laura Scozzi
Live in HD Director ─ Gary Halvorson
Host ─ Ailyn Pérez