Tragedies have always attracted me. Fully aware that the ending will be sad and the experience will most likely cause some degree of physical and emotional depletion, I still find myself being drawn to the most dramatic literary form like a batty moth to a glaring light. And when one of opera's most famous tragedies is set to some of the most beautiful, heart-soaring music, the call to attend is heeded without question.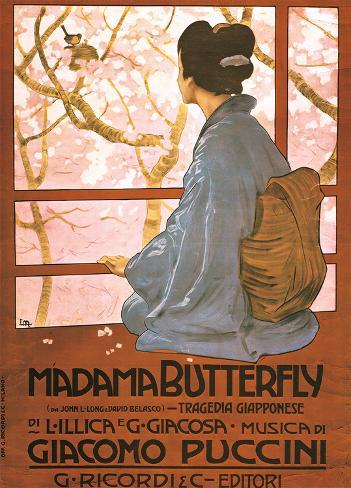 Intriguingly, Madama Butterfly could have been my first opera: glancing over the 2015-2016 Live in HD schedule, I thought it would be a perfect "first-timer" opera since its title is readily on the lips of laymen. But other decisions were made and now stepping into the theater in early April 2016, my opera attendances had now totaled beyond what could be counted on one hand.
So what did I think of Madama Butterfly ? I loved it ! The music was thematic and stunning while the costumes were colorful and imaginative. Also appropriately mimicking the clean, Japanese aesthetic were the sets designed by the late director, Anthony Minghella.
Of course, there was heartbreak, but the unwavering balance created by the supporting characters of Suzuki and Sharpless added stability to an otherwise distressing story.
However, my winner of the day goes to Kristine Opolais, who sang Butterfly. What a sublime actress ! Her ability to convey both tenderness and frustration as the unfortunate geisha was unmatched, even though her voice sounds a bit too "hollow" for my liking. If only she and Roberto Alagna (Pinkerton) could have swapped heights… Too many times did I notice Opolais purposefully stooping as she pattered on stage in order to diminish the deficit between her head and that of her leading man's.
"Now, what to wear…?" Hitherto, I had been able to furnish themed costumes out of accessories in my closets with limited issues. Butterfly was a different story. Not knowing anything about the opera beforehand, I first toyed with the idea of draping a long skirt in a scarf printed with bright butterflies and donning a pair of child's dress-up butterfly wings… Just as Pinkerton abandoned Butterfly, so I also jettisoned that silly notion.
Desperate for a solution japonaise, I realized I had no other option but to make my own kimono. But where to begin ?! I didn't even know how to operate a sewing machine ! Determination, however, was stronger than Doubt. Unearthing the old Singer sewing machine, sheathed in dust, from under my mother's bed, I sat on the floor of my bedroom trying to understand how the machine worked. Turning the hand wheel and observing how and where the needle fell was a fascinating procedure, but I wasn't gaining ground on my endeavour. Thank goodness for online articles and YouTube ! After many failed attempts at propelling the needle on its journey, something finally clicked and I sewed my first line of stitches. Eureka ! Now to begin the staggering challenge of sewing a yukata…
Keeping my project a secret, I worked late hours in my bedroom following the instructions for a homemade yukata. Astoundingly, I learned and retained more information about kimonos, yukatas, and Japanese geisha culture than I ever imagined. One of the greatest benefits of sewing costumes is the amount of research needed to facilitate an authentic look and therefore, the knowledge gained in the process. Differentiating the method from textbook learning is the hands-on approach that ensures greater retention even after the project is complete. Even now, I can name off all the parts of a kimono and some of the little intricacies of geisha manners.
Nearly all the design aspects of my cotton yukata are traditional (except the contrasting bachi eri, but that's only because I ran out of the main fabric !). From the ohashori (pouched fabric beneath the obi) to the left-over-right okumi panels (NEVER right-over-left ─ that's for corpses only !!!!), my yukata was fit for a Japanese festival. I even made a matching kanzashi chopstick hairpiece to tie into the tropical print of the yukata.
Overall, I was proud of my very first sewing project─ wearing my creation to the theater made me feel as if I had conquered an unimaginable feat !
With Madama Butterfly, my taste for tragedy was well satiated. In matters of sewing, my palate had just been whetted.

Toi, Toi, Toi,

Mary Martha
Cast and Credits:
Madama Butterfly ─ Giacomo Puccini (1904)
Live in HD air date: April 2, 2016

Cast:
Cio-Cio-San ─ Kristine Opolais
Pinkerton ─ Roberto Alagna
Suzuki ─ Maria Zifchak
Sharpless ─ Dwayne Croft

Credits:
Conductor ─ Karel Mark Chichon
Production ─ Anthony Minghella
Director and Choreographer ─ Carolyn Choa
Set Designer ─ Michael Levine
Costume Designer ─ Han Feng
Lighting Director ─ Peter Mumford
Puppetry ─ Blind Summit Theatre
Live in HD Director ─ Gary Halvorson
Host ─ Deborah Voigt*

*Matthew Polenzani originally scheduled to host broadcast.