My pastor once referred to the plot of La Bohème as "the hippies in Paris." And after catching a past Met performance of La Bohème on TV one evening, I had to agree. Rebellion against authority, communal living, and starving artists flood the stage with the modes of their free-spirit culture. While one of the most popular operatic works, which has influenced a host of artistic projects outside of opera houses (i.e Rent), I was not initially won over by the loose morals of "The Bohemians". However, my indifferent attitude did not prevent me from taking the trip to the theater when a fresh cast mounted the open garret of Franco Zeffirelli's iconic 1981 production. "I'll give it another chance…" I reasoned.
The pairing of Sonya Yoncheva and Michael Fabiano felt like an old photograph stuffed into an album presently displaced. They looked familiar, but where had I seen them…? Oh, yes─ in La Traviata just a year earlier. However, their wigs and wardrobes had changed drastically from the days of suits and satin sundresses.
Did my second viewing of La Bohème transform my opinion of Puccini's lovable opera ? Not particularly. While anticipating my favorite melodies (I judge a soprano by the number of goosebumps on my body when listening to "Sì. Mi chiamano Mimì") was an entertaining highlight, I still wasn't as emotionally moved by the plot as I had hoped. Perhaps the third time will be the charm…
There are times when an opera costume should be interpretive. This was not one of those occasions. No, I knew from the instant I decided to make plans for attending La Bohème that I would dress head to toe as either Mimì or Musetta. Since the more recognizable of the two is the former, and since masquerading as the latter would throw me into a mid-season panic of having to sew something from scratch, I threw in my chips for Mimì. The dishwater blue frock ─ so iconic to Zeffirelli's sickly sweet Mimì ─ could easily be mimicked with the blue chambray dress in my mother's closet.
But it needed more…
The original dress, which is from the 1970's or 80's, hit at the mid-calf level, but this was too short for the floor length skirts of the 1830's. I remedied my malady with a matching chambray ruffle, which I attached to the bottom hem of the dress.
Now I needed the shawl… Mimì is nothing without her crocheted shawl ! A plethora of images from past Met performances guided me when choosing a pattern…
Here's the pattern I used: https://shyamanivas.blogspot.com/2017/06/latticed-spider-shawl-1.html
I devised my own border scheme based on the production pictures and with a pair of lace gloves and upswept hairstyle… voilà─ Mimì !
"Yes, they call me Mimì"… at least they did at the theater that day ! It's always fun to replicate the style of a character to the nth degree and Mimì was a relative breeze. Although I'm not counted among the lovers of La Bohème, I'm certain that Puccini's tunes will draw me back again someday. But next time, I plan to chart a new course for my costume… look out, Musetta, I'm coming for you !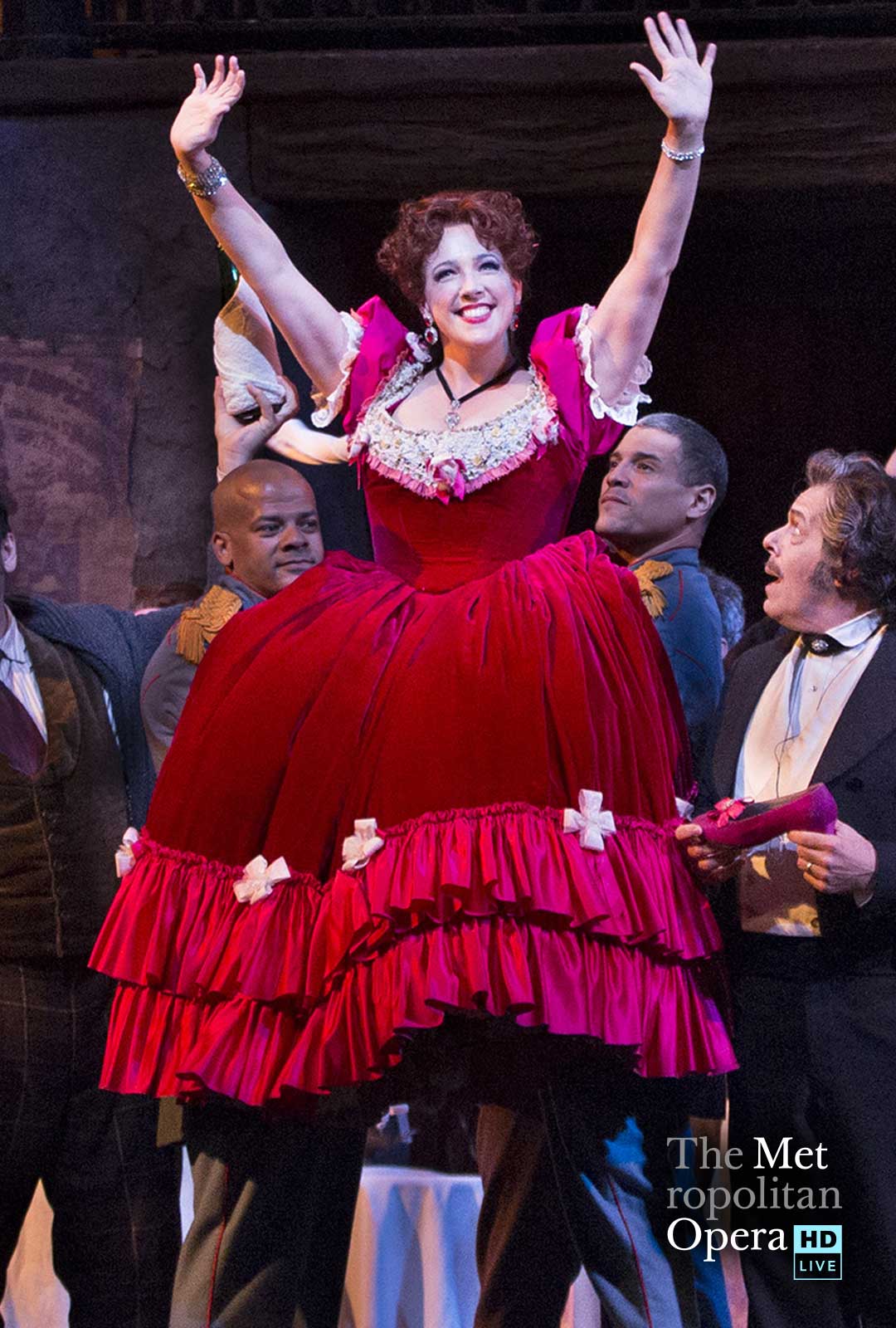 Toi, Toi, Toi,

Mary Martha
Cast and Credits:
La Bohème ─ Giacomo Puccini (1896)
Live in HD air date: February 24, 2018

Cast:
Mimì ─ Sonya Yoncheva
Rodolfo ─ Michael Fabiano
Musetta ─ Susanna Phillips
Marcello ─ Lucas Meachem
Schaunard ─ Alexey Lavrov
Colline ─ Matthew Rose
Benoit/Alicindoro ─ Paul Plishka

Credits:
Conductor ─ Marco Armiliato
Production ─ Franco Zeffirelli
Set Designer ─ Franco Zeffirelli
Costume Designer ─ Peter J. Hall
Lighting Designer ─ Gil Wechsler
Revival Stage Director ─Gregory Keller
Live in HD Director ─ Matthew Diamond
Host ─ Kelli O'Hara