Love potions and promises of love. A snookered bumpkin, a wealthy proprietress, and… a bottle of Bordeaux ? Rife with hijinks and hilarity, it's hard not to love Donizetti's bubbly comedy. As a part of the Met's "Summer Encores" series, the biggest draw to this past performance of L'Elisir d'Amore was its stellar cast. And therefore, the decision to make the long trip to a distant theater to see Anna Netrebko and Matthew Polenzani perform was an easy one.
Did I mention that L'Elisir was funny ? So hilarious was Matthew Polenzani's "drunk" scene that I was half bent out of my seat, cackling with laughter. The sweat that poured from Nemorino's brow as he danced around the town square with his magic "elixir of love" was enough to fill a bucket ! Surreptitiously, Matthew Polenzani dropped to the floor in an act of pleading desperation while furtively taking the moment to wipe his perspiring hands (and nearly his drenched head !) on the stationary skirt of Anna Netrebko's lingering Adina ─ a clever improvisation. Too bad the snooty people in the theater could not see the comedy of the ruse… they barely chuckled ! Stiff crowd, but nothing could spoil my amusement.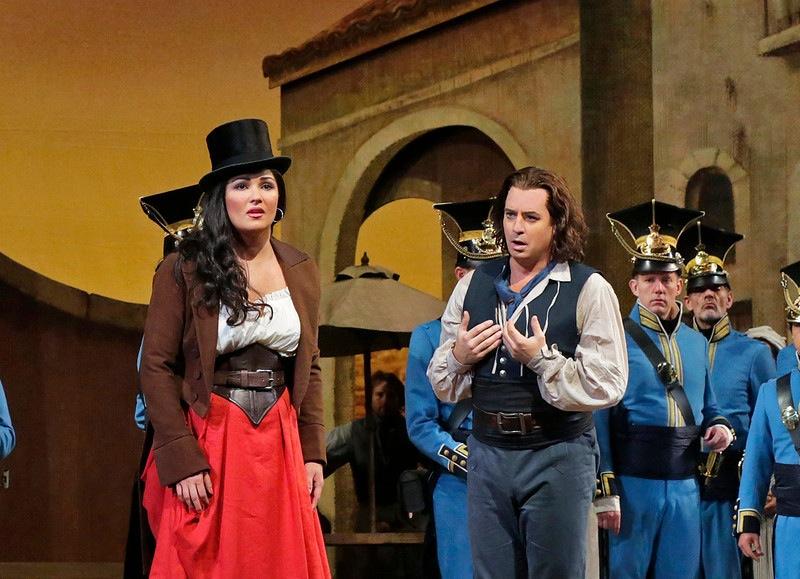 I should say that amid all the chicanery and cavorting, the opera ended in the manner in which all comedies must wrap: with a wedding and a happy outcome ! No one ever weeps by the end of a Donizetti bel canto romp.
Adina, the opera's heroine, is a wealthy landowner in the Basque region of France. In Bartlett Sher's entertaining (and characteristically quirky) production, her attire consists of a peasant blouse, underbust corset, skirt, crop jacket with tails, and occasional top hat.
While the underbust corset and top hat were out of the question with such short notice, I felt I could pull together a knock-off look with garments I already had in my closets… and so I did ! The coral crinkle skirt has been in my mother's closet for ages… who would have thought that it would be perfectly suitable for Adina ? And although my brown shawl can't claim to be a crop jacket with tails, it certainly added to the coordinating color scheme of the model outfit worn in the opera.
But the real story belongs to the sashed blouse…
In 2004, my mother and I were bridesmaids in my aunt's Colorado wedding where we wore matching peach satin skirts and ivory blouses with pearl buttons. Even as the years have passed, the two identical blouses have remained burrowed deep in our closets. Unsurprisingly, my original child's blouse no longer fits… that is, unless I wanted to dress like Britney Spears from her "…Baby One More Time" music video.
Maybe some other time…
For now, my mother's blouse fits me fine and recalls to mind memories of my aunt's autumn wedding day in Steamboat Springs. Here's what the blouse looked like when paired with the peach skirt:
A bridesmaid's blouse worn as a costume to the opera ? That almost sounds like a crafty trick from L'Elisir d'Amore !

Toi, Toi, Toi,

Mary Martha
Cast and Credits:
L'Elisir d'Amore ─ Gaetano Donizetti (1832)
Live in HD air date: October 13, 2012
(Encore seen: June 29, 2016)

Cast:
Adina ─ Anna Netrebko
Nemorino ─ Matthew Polenzani
Belcore ─ Mariusz Kwiecien
Dulcamara ─ Ambrogio Maestri

Credits:
Conductor ─ Maurizio Benini
Production ─ Bartlett Sher
Set Designer ─ Michael Yeargan
Costume Designer ─ Catherine Zuber
Lighting Designer ─ Jennifer Tipton
Live in HD Director ─ Gary Halvorson
Host ─ Deborah Voigt