"Have you ever been to an opera ?"
"No."
"Well, would you like to go to one ?"
"Okay…"

Those are the opening lines of how an intense love affair began. It was in mid February 2015 when I accepted the invitation to attend my first opera. And, in a way, it seemed like a rite of passage ─ only anyone who's anybody goes to the opera, right ? Obviously, I hadn't a clue what I was getting myself into…
It was love at first note. From Štefan Kocán's "All'erta ! All'erta !" I was thunderstruck by the sheer power of the operatic voice. I didn't know what I was getting into, but I knew I liked it !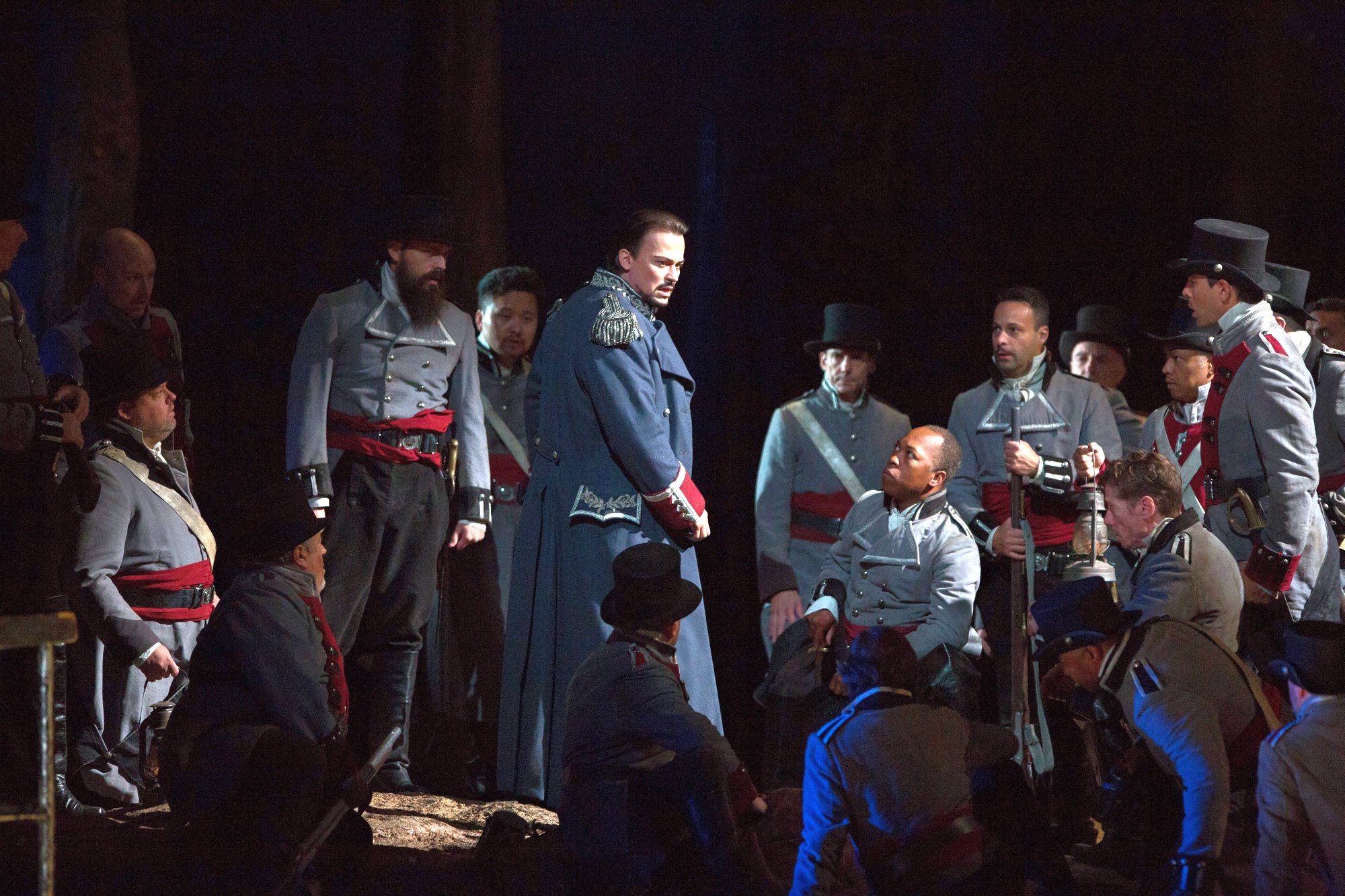 The intensity swelled when Anna Netrebko hit the stage. Previously, I had been told of Anna's greatness and I was curious to know exactly what that meant. If I was smitten by the tale-telling of the captain of the guard (Kocán), I was blown back in my folding theater seat by Anna Netrebko's outright command and power. Never before had I heard such magnanimous (and beautiful) sounds come from the human body. Could this get any better ?
Oh, yes, it did. The other star personality in the cast was Dmitri Hvorostovsky, who shockingly halted brain cancer treatments in order to perform in Il Trovatore. Since hype has never swayed me much, I wanted to make the judgement call myself. Just as when Anna Netrebko stepped into view on the stage, the applause shot up in clamor as Dmitri Hvorostovsky briefly broke character to acknowledge the outpouring of support from the myriad of fans. As he began his opening notes, there was one in particular that resounded in so scintillating a manner that my ears tingled. Glancing around casually to see if I was the only one who had heard such magic, I redirected my eyes back to the big screen and whispered to myself, imperceptibly, "Sold."
The events surrounding Dmitri's return to the Met turned into a touching tribute during the curtain call when the orchestra pit pelted the ailing baritone with enormous white roses. Everyone was surprised ─ Dmitri most of all ─ and no eye remained dry.
Thinking about the experience I desired for my first opera, I knew I wanted a madcap: grandiose plots, dire passion, and bloody revenge. Il Trovatore had all three. But I also wanted something else: to dress up ! I was, after all, attending a premiere event of utmost sophistication.
As much as I wanted to break out my evening gown and gloves, I thought I would look ridiculous showing up to the theater for the 1 p.m. start time. Nevertheless, I did dress up…
Long black skirt, long black gloves, my purple velvet peacock shawl from New York, low chignon, and jewels galore. I felt like a million bucks !
Needless to say, my first time at the opera was a life-changing experience. I had to have more. The following Wednesday, I attended the encore performance of Il Trovatore and due to the evening hour, I proudly donned my evening gown to the astonishment of the theatergoers. Notice the white rose ? I, too, along with the orchestra, celebrated Dima's return to the Met !
A simple invitation was all it took for me to dip my toe into a storied artform. It was the performance of Il Trovatore in October 2015 that launched my love for opera and costuming and opened up new worlds to me. Although I doubt I will ever witness such a monumental event as my first opera, my enthusiasm for the art has never waned. That same enthusiasm for the opera has in turn given me an expansive knowledge of history, foreign languages, and sewing, which in turn spurned the creation of this blog… all because of that one auspicious day.
I never intended to fall madly in love with the opera… but I'm glad I did.
Toi, Toi, Toi,

Mary Martha
Cast and Credits
Il Trovatore ─ Guiseppe Verdi (1853)
Live in HD broadcast date: October 3, 2015
Encore: October 7, 2015

Cast:
Leonora ─ Anna Netrebko
Manrico ─ Yonghoon Lee
Count di Luna ─ Dmitry Hvorostovsky
Azucena ─ Dolora Zajick
Ferrando ─ Štefan Kocán

Credits:
Conductor ─ Marco Armiliato
Production ─ David McVicar
Set Designer ─ Charles Edwards
Costume Designer ─ Brigitte Reiffenstuel
Lighting Designer ─ Jennifer Tipton
Choreographer ─ Leah Hausman
Stage Director ─ Paula Williams
Live in HD Director ─ Gary Halvorson
Host ─ Susan Graham