The opera that catapulted Handel to stardom in 1709 certainly didn't appear to possess any of the typical semblances of its Ancient Rome setting. TV news reporters, business suits, smartphones, and rather raunchy physical comedy could all be taken in during the Live in HD performance of Sir David McVicar's staging of Agrippina.
So why did I decide to attend ? After all, I don't like modern productions… or do I ?
A course taken on 18th-Century Opera from edX the previous summer softened my ossified resolve on the idea of attending a Baroque opera in a Y2K setting. It was worth a shot… and that shot was fired with poignant accuracy─ I laughed harder than I have ever laughed at any opera, nearly falling out of my seat on innumerable occasions ! The antics were well-timed, especially from Joyce DiDonato's saucy Agrippina and her hellion son, Nerone, played to utmost perfection by a tattooed, skinny jean wearing, cocaine snorting Kate Lindsey in a trouser role.
As a scintillating counterpart to the opera's R-rated comedy, the singing was sublime. With many scenes being accompanied only by the deft strings of maestro Harry Bicket's harpsichord, the singers were exploited for their talent and technique alone, which was all the more appreciated after the insightful edX course.

The question remains to be asked: was the radical redux of the Met's oldest opera in the repertoire worthy of my stalwart traditionalism ? Resoundingly, yes ! Call it sacrilege if you please, but if Agrippina had been staged in its original setting of the infancy of A.D. history, I think it would have been an absolute snoozefest ! Sorry, Handel.
Realizing the modern-dress style of the opera could very well lead into a fashionable sewing project, I envisioned a specific mode ─ an overall perceived attitude ─ for the styling of my outfit: Italian couture. Fittingly, Agrippina is centralized in Rome and while Ancient Rome is a completely different entity from the country of Italy in existence today, I still couldn't resist aligning the two nations in my quest for haute couture.
Perusing pictures and watching video clips from previous renditions of the same McVicar production (extant since 2000), I chose to model my outfit after the Agrippina standing on the stairs in the picture below.
Up close, the blazer was not just one solid color; it was subtlety patterned in a diamond motif. Satin first popped into my mind until I spotted the perfect fabric, which arrived in one of my monthly swatch club mailers from Fabric Mart Fabrics.
To sew my very first blazer, I used a PDF pattern from Lekala. Although not without flaws, I learned in strides how coat construction comes together. Styled with a "business bun", Whiting and Davis purse (my mother's), cat eye sunglasses, and gobstopper pearls (thank you, Aunt Countess !), I was poised to take on the world in sleek, corporate couture fashion.
The classic, Chanel-esque cocktail dress, which employed pattern and alteration techniques from the Corset Academy, was the perfect base garment for my "cutthroat corporate" ideal. Here was my inspiration dress: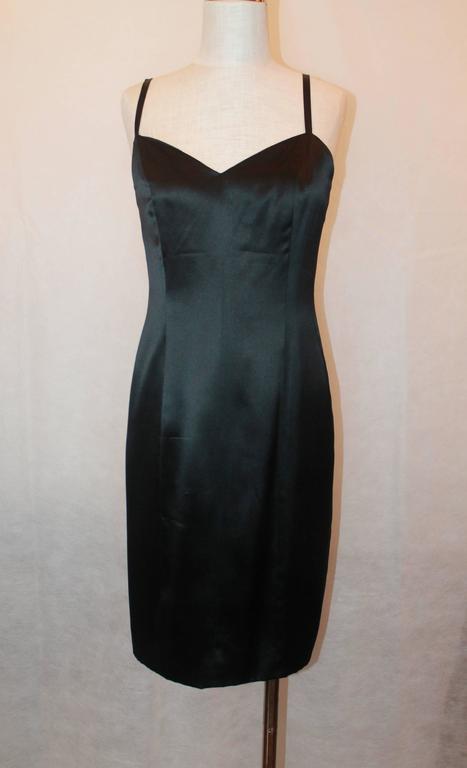 The ponte knit dress was customized with a mesh upper lining and built-in underwire bra…
Did I mention this was an Italian couture outfit ? Everything, from the damask weave crepe challis wool of the blazer to the black ponte knit of the cocktail dress, was sourced from Italy.
Italian couture and a ruthless Roman matriarch… a match made in heaven ? You be the judge ! The taste for high-end fashion and the delicious vocalities of Handel's breakout opera left me as hungry as the titular Empress herself, salivating over her next scheme.

Toi, Toi, Toi,

Mary Martha
Cast and Credits:
Agrippina ─ George Frideric Handel (1709)
Live in HD air date: February 29, 2020

Cast:
Agrippina ─ Joyce DiDonato
Nerone ─ Kate Lindsey
Poppea ─ Brenda Rae
Ottone ─ Iestyn Davies
Pallante ─ Ducan Rock
Claudio ─ Matthew Rose

Credits:
Conductor ─ Harry Bicket
Production ─ Sir David McVicar
Set and Costume Designer ─ John Macfarlane
Lighting Designer ─ Paule Constable
Choreographer ─ Andrew George
Live in HD Director ─ Gary Halvorson
Host ─ Deborah Voigt