Richard Strauss's galloping social comedy of class and sex was a double shot of caffeine that left me both breathless and exhilarated. Although originally set in the 1700's, the latest Met redux advanced the story to 1911, the year that the opera first premiered while coinciding with the cusp of World War I and the disappearance of the Habsburg empire.
Uniquely, this was to be the farewell of Renée Fleming and Elīna Garanča, both retiring their respective roles as the worldly and wistful Marschallin and her adolescent lover, Octavian. It's really a pity ─ both were superb, but especially the latter, who had me completely under the spell of her masculine alter ego. Their affair may have been short-lived, but their legacy will live on !
Equally scintillating were Günther Groissböck as the hilariously oafish Baron Ochs and Erin Morely as the dainty debutante, Sophie. In fact, I would venture so far as to deem the cast as nearly immaculate: I couldn't imagine better singing actors to play each role, especially in regards to the stratagems and horseplay of the opera. My sides were splitting !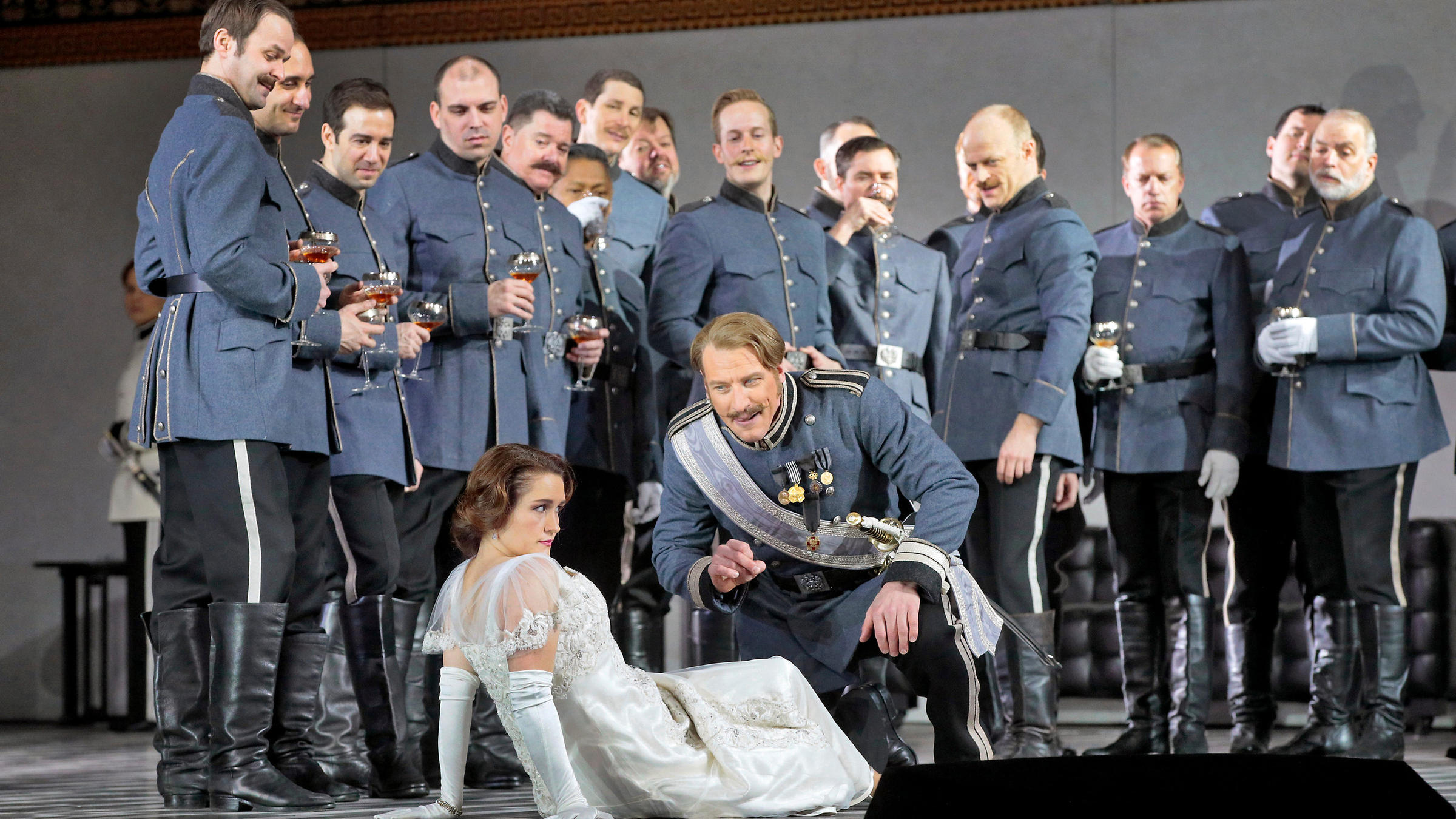 Since Edwardian was the style à la mode, I did my best to try and capture the time period using what I had one hand. My mother's red Christmas dress, worn in the late 1980's, offered a classic silhouette that could surely mimic the matronly Marschallin. To tie in the ecru lace collar along the neckline, I crocheted a pair of gloves to further my ideal of the graceful Edwardian lady.
The hat, oh! the hat…
How many times are the fashionable ladies of the early 20th century pictured without some enormous feathered and flowered chapeau nesting upon their updo ? Hardly ever ! I needed something spectacular to set off the conservative frock. So I snatched an old Panama laying around from years ago and padded the crown with wads of cotton to eliminate the outer indentions. Then, I sandwiched the brim of the hat with two large cardboard "donuts" and applied copious amounts of duct tape to secure the layers from shifting.
A swath of vibrant scarlet velvet was tucked into the newly expanded brim and reshaped crown. Out of the same velvet I stitched a gigantic bow and attached it to the back of the hat…
A bouquet of red roses (Walmart's Finest) and gold Christmas bow were all that were needed to christen my hat for Edwardian greatness.
Elegant and ostentatious… just like the ladies of the Edwardian era and Strauss's brilliant Der Rosenkavalier !
Toi, Toi, Toi,

Mary Martha
Cast and Credits:
Der Rosenkavalier ─ Richard Strauss (1911)
Live in HD air date: May 13, 2017

Cast:
The Marschallin ─ Renée Fleming
Octavian ─ Elīna Garanča
Sophie ─ Erin Morely
Baron Ochs ─ Günther Groissböck
Faninal ─ Markus Brück
An Italian Singer ─ Matthew Polenzani

Credits:
Conductor ─ Sebastian Weigle
Production ─ Robert Carsen
Set Designer ─ Paul Steinberg
Costume Designer ─ Brigitte Reiffenstuel
Lighting Designers ─ Robert Carsen, Peter Van Praet
Choreographer ─ Philippe Giraudeau
Live in HD Director ─ Gary Halvorson
Host ─ Matthew Polenzani