The score of Manon is a sensual pleasure for the ears… It's a pity that I wasn't more enthused about opera from the get-go ! But after my repelling experience with Puccini's Manon Lescaut in 2016, I was tepid to take on the French version of the same tale. However, I sought to give the Massenet piece a fair shake ─ and it's a good thing I did !
With charms tantamount to a Cartier necklace, Lisette Oropesa and Michael Fabiano lit up the stage with their untamable chemistry. It flowed and never ebbed, even in spite Manon's tastes for frivolous Parisian luxuries. I confess that the blush on my cheeks turned redder than beets during the smouldering peak of Manon and des Grieux's passion… atop a battered bed in the open sanctuary of a church. Awkward.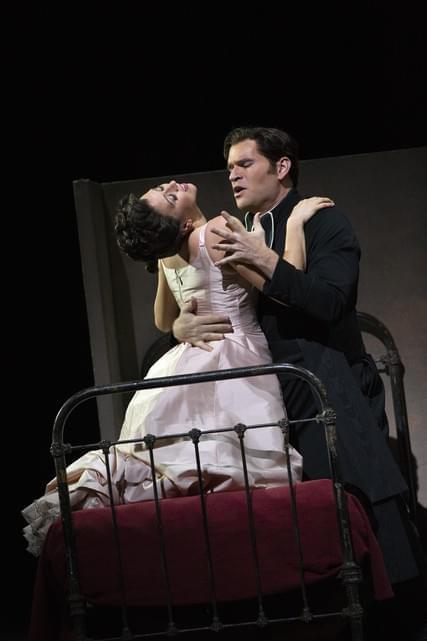 While the screen was seared by the heat of the lovers, I had my eye on the historical aspects of the opera, namely, the costumes.
Although Manon is originally set in the Parisian courts of the 18th century, the Met's current Laurent Pelly production has switched the setting to the late 19th century, or "La Belle Époque" as it is called among fashion historians. While rich with possibilities for sumptuous gowns, the costumes for this particular production looked a tad… "polyester"… and were all over the place in terms of isolating a specific decade: I noticed armored cuirasse bodices and fluffy bustles ─ indicative of the 1880's ─ to gored skirts and enormous feathered hats, synonymous to the early Edwardian period of the 1900's. There were even contemporary gowns of no historical basis. The myriad of differing modes of dress spanning 30+ years made for a lack of continuity as well as identity in the production. Was it traditional ? Was it modern ? The answer remained obscure.
Knowing that Laurent Pelly productions are filled with whimsy and topsy-turvy lineages, I didn't aim to directly copy any one single costume from the opera since I knew, in taking that tack, the possibilities for future wear would be slim to none.
Coming to the decision was tough, but I eventually opted to create an 1890's ball gown inspired by the mauve, pink, and silver butterfly clip perched in my hair.
The puff sleeves were enormous and reminded me of spun cotton candy…
With lace hand sewn onto the bodice and front gores of the skirt, this costume had couture qualities about it.
Paris, here I come ! I remember walking (or waltzing ?) into the theater that sunny late October afternoon and observing the gentleman ticket taker rendered speechless as he approached the podium. While approbation is never my motivation, it's always a pleasure to receive remarks about the enjoyment elicited in others and their gratitude for what the craft adds to the Live in HD simulcasts.

Toi, Toi, Toi,

Mary Martha
For more information on how I created my "pretty in pink" 1890's ball gown from start to finish, check out my tutorial post: https://costumeclosetcouture.com/2020/04/21/the-making-of-manon-the-1890s-ball-gown/
Cast and Credits:
Manon ─ Jules Massenet (1884)
Live in HD air date: October 26, 2019

Cast:
Manon ─ Lisette Oropesa
Chevalier des Grieux ─ Michael Fabiano
Guillot de Morfontaine ─ Carlo Bosi
Lescaut ─ Arthur Ruciński
de Brétigny ─ Brett Polegato
Comte des Grieux ─ Kwangchul Youn

Credits:
Conductor ─ Maurizio Benini
Production ─ Laurent Pelly
Set Designer ─ Chantal Thomas
Costume Designer ─ Laurent Pelly
Lighting Designer ─ Joël Adam
Choreographer ─ Lionel Hoche
Associate Director ─ Christian Räth
Live in HD Director ─ Gary Halvorson
Host ─ Nadine Sierra